LED Shoebox Lights for Parking Lots and Outdoor Areas
FREE SHIPPING & Risk-Free Returns
Choose from our long-life LED fixtures below, or if you're looking to keep your existing fixtures, explore our top of the line LED retrofits for HID shoebox fixtures. If you're having trouble deciding which is right for you—retrofit or replace—reach out to our team and tell us about your lights!
Pole Mounted LED Lighting for Outdoor Areas
Go easy on the environment—and your light bill—with LED lighting for parking lots and outdoor areas. Our pole-mounted LED lights will also cut your maintenance costs. With a 50,000-hour average operating life, it'll be a good, long while before you have to rent another bucket truck again!
Our LED retrofit experts are ready to assist. Reach out today to convert your fluorescent lights to LED.
Call 215.355.7200 or Text 267.266.8330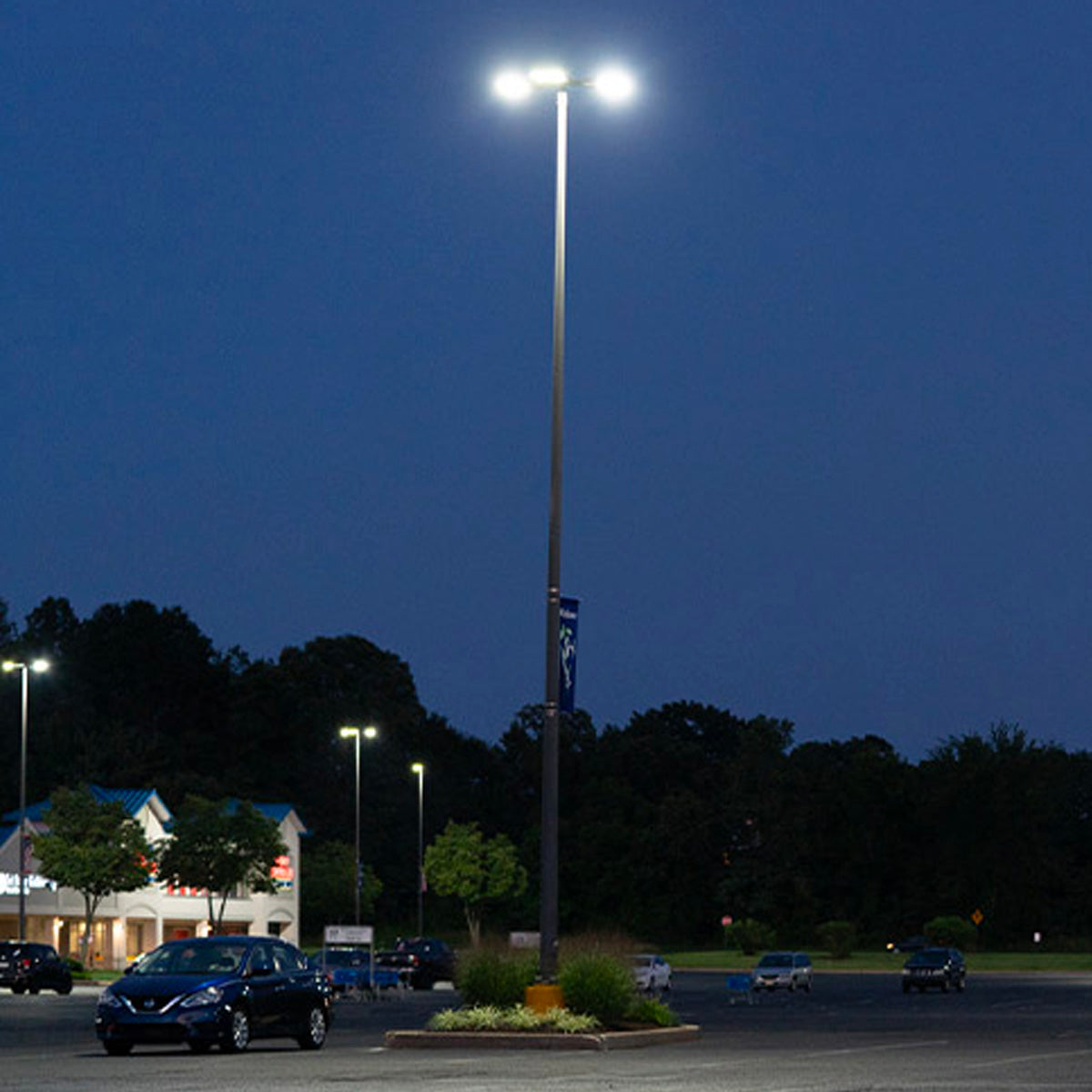 Need Poles?
Check out our steel and aluminum pole options for your new shoebox parking lot & outdoor area lights—and request a quote for your project.
LED Shoebox Light Fixtures for Brilliant Outdoor Illumination
Illuminate your parking lot or other large outdoor area with our advanced LED shoebox light fixtures. Designed for optimal performance and durability, our LED parking lot lights offer exceptional brightness and energy efficiency, ensuring a well-lit and secure environment. With a focus on quality and reliability, our parking lot light fixtures provide long-lasting illumination for a wide variety of outdoor spaces.
Advantages of Our LED Parking Lot Lighting:
Energy-Efficient Brilliance: Experience powerful illumination without compromising energy consumption, saving you both money and resources in the long run.
Enhanced Durability: Built to withstand harsh weather conditions, our LED shoebox lights are designed to provide consistent performance even in challenging outdoor environments.
Customizable Solutions: A range of lighting options are available to help ensure optimal coverage, efficiency, and visibility for your outdoor area including: Selectable wattages, lumens, and color temperatures, smart controls, & more.  
Why Choose Our LED Shoebox Lights?
Our LED shoebox lights are specifically engineered to withstand all types of weather. With a focus on superior performance and longevity, our fixtures are the ideal choice for efficiently lighting parking lots, pathways, and other outdoor spaces.
Frequently Asked Questions on Shoebox Lighting:
Which lighting is best for parking lots?
LED lighting is the best option for parking lots due to its energy efficiency, longevity, and superior brightness, providing clear visibility and enhanced security.
How many lumens do you need to light a parking lot?
The number of lumens required depends on the size and specific lighting needs of the parking lot. Generally, a range of 10,000 to 20,000 lumens is recommended per parking lot fixture. For especially high brightness needs, 35,000 to 45,000 lumens will be a better range. 
How bright should a parking lot light be?
The brightness of a parking lot light should be sufficient to ensure clear visibility and safety for vehicles and pedestrians. Typically, a minimum of 20 foot-candles is recommended for parking lot lighting. For more info, check our guide on How Much Light Do You Need or reach out to our team.
How long do LED parking lot lights last?
LED parking lot lights have an impressive lifespan, often lasting 50,000 to 100,000 hours, depending on the specific model and usage.
What is an LED shoebox light?
An LED shoebox light is a type of outdoor lighting fixture characterized by its rectangular shape. It is designed with energy efficient LED technology to provide powerful illumination for large outdoor areas..
What is a shoebox light used for?
Shoebox lights are commonly used for illuminating large outdoor spaces such as parking lots, pathways, and other commercial and industrial areas, providing enhanced safety & security during nighttime hours.
Explore our range of LED shoebox lights and elevate the lighting of your outdoor spaces today!
About Pole-Mounted LED Fixtures for Parking Lot and Outdoor Area Lighting
Outdoor area lighting is vital for employee and customer safety and company security. Poorly lit parking lots, campuses, car dealerships, and hospital and apartment grounds create opportunities for crime, trip-and-fall injuries, and other safety and security issues. They also don't beckon customers to your location.
Outdoor area lighting, however, has the problem of being installed 20 to 40 feet off the ground. Traditionally, this makes replacing failed lamps a frequent and costly maintenance task. With LED shoebox lighting, you can significantly reduce the number of lamp replacements, thanks to the technology's extended life. At the same time, you'll significantly reduce your associated maintenance costs.
That's why our customers choose LED lighting when they upgrade or install new lighting for parking lots, loading docks, outdoor storage areas, campuses, plazas, outdoor venues, farm properties, and many other locations.