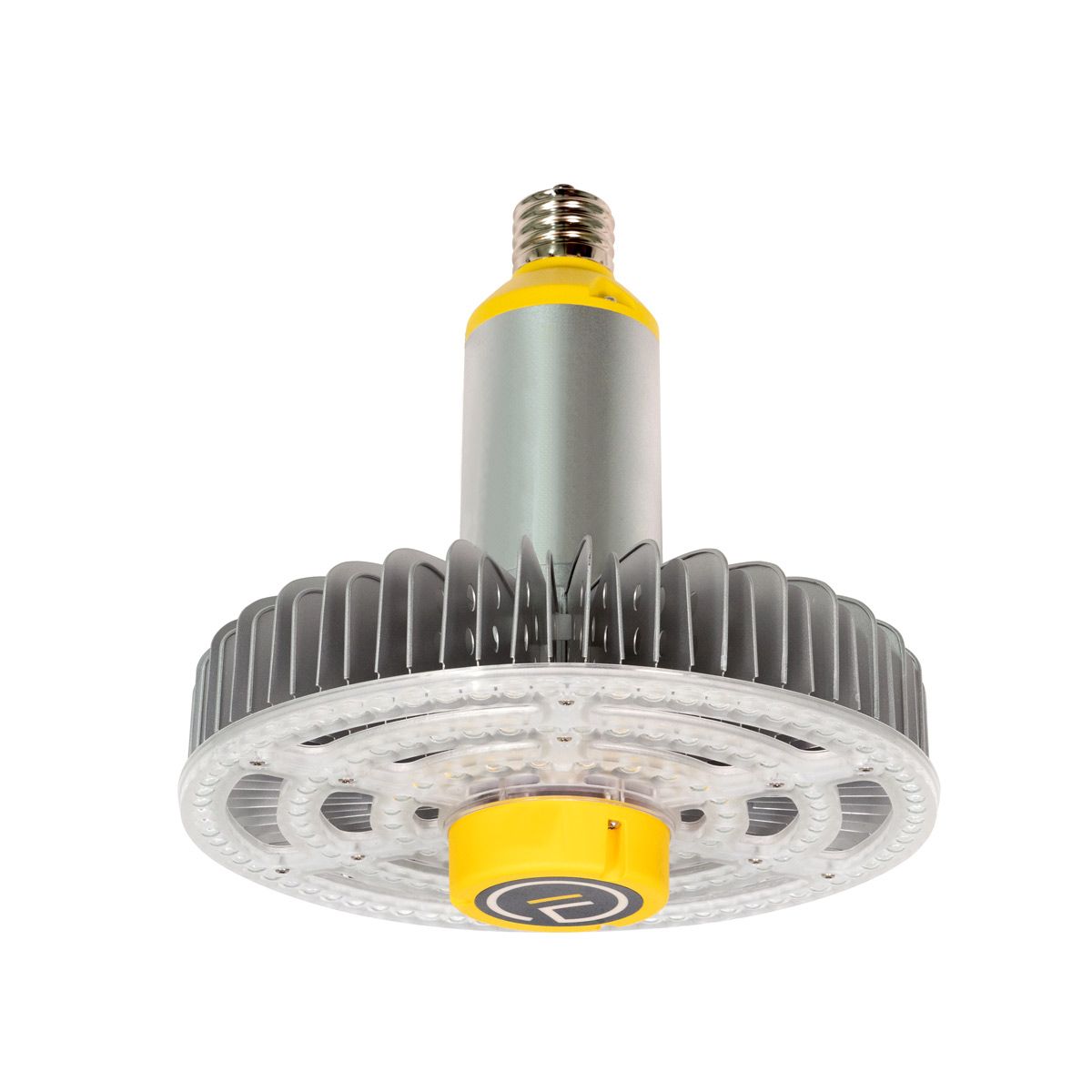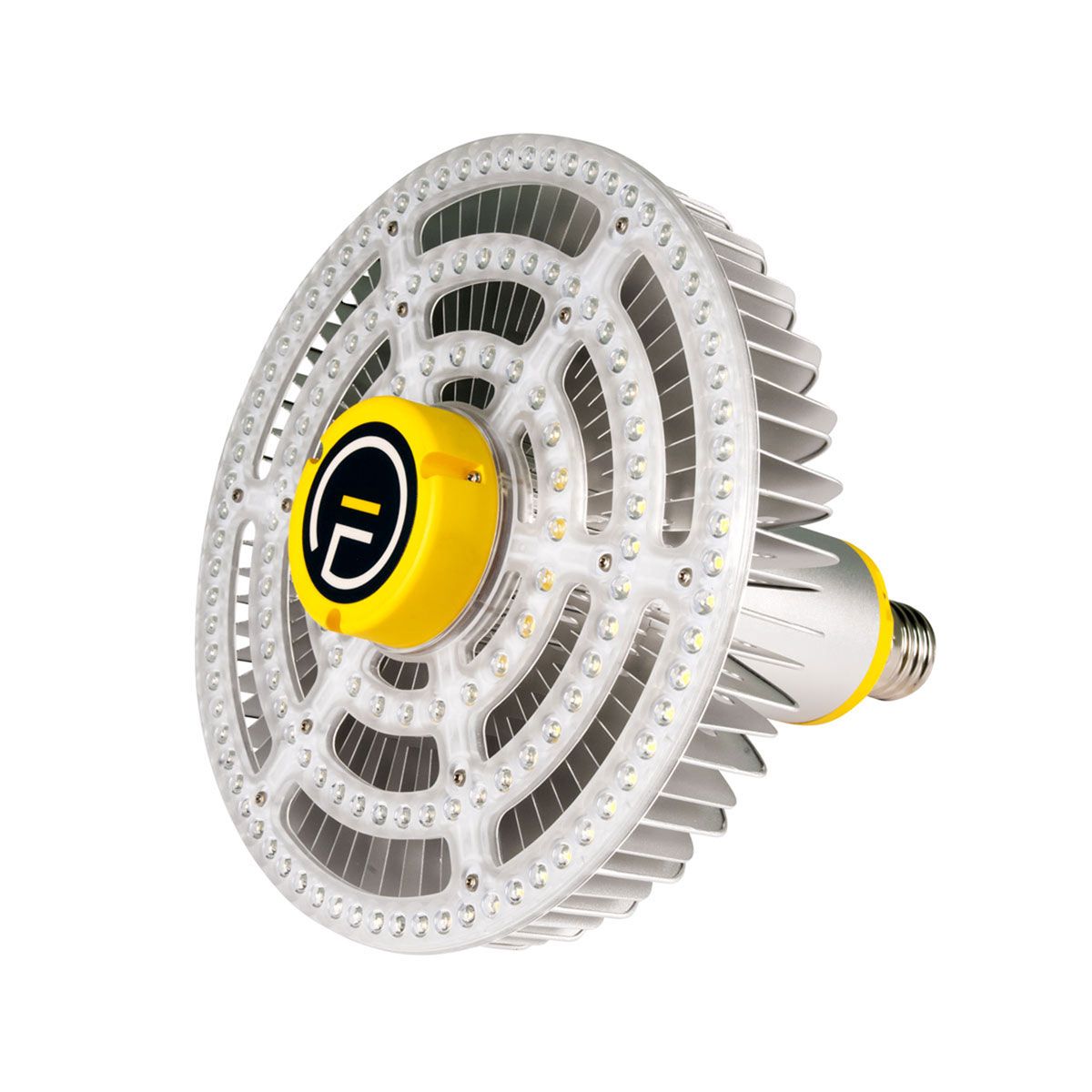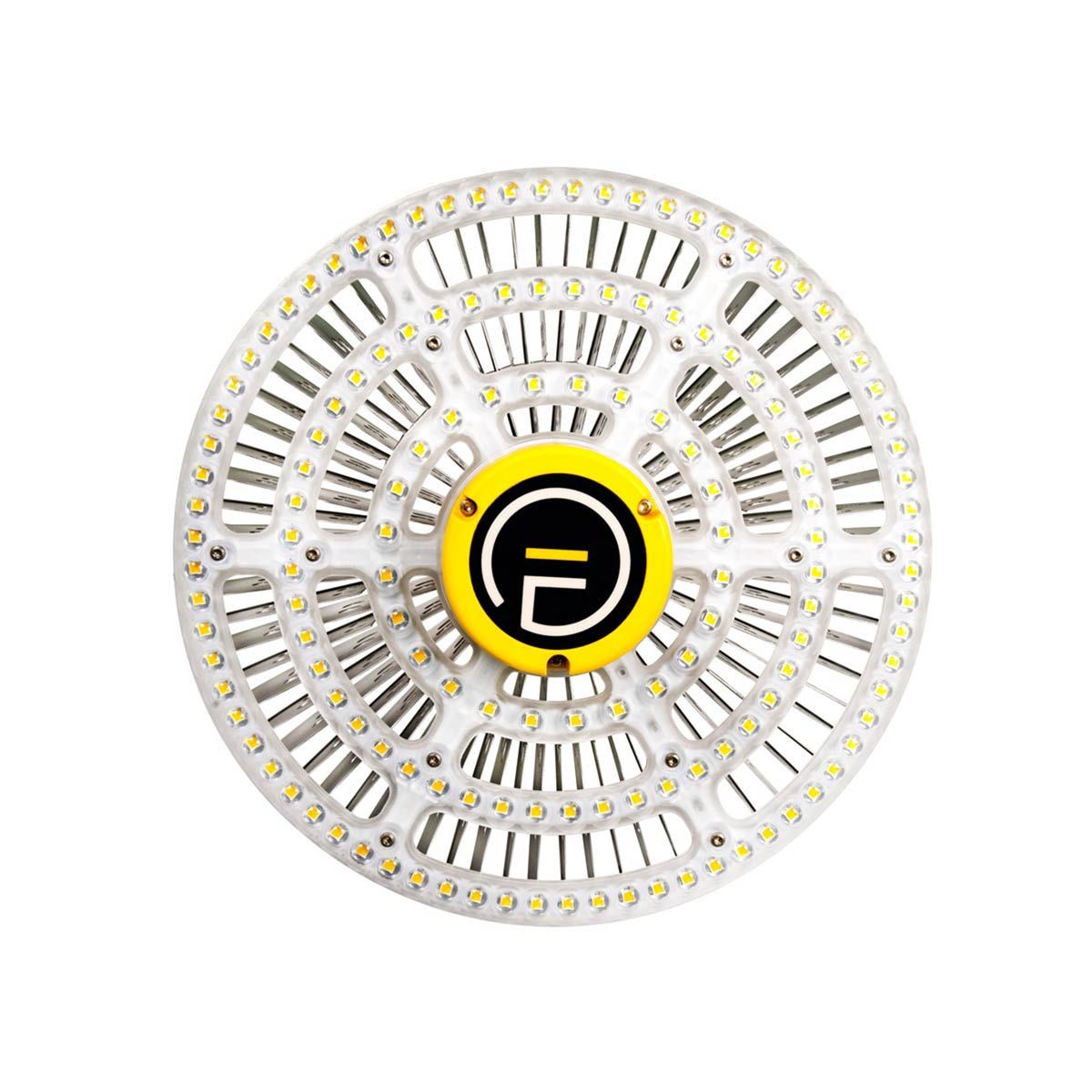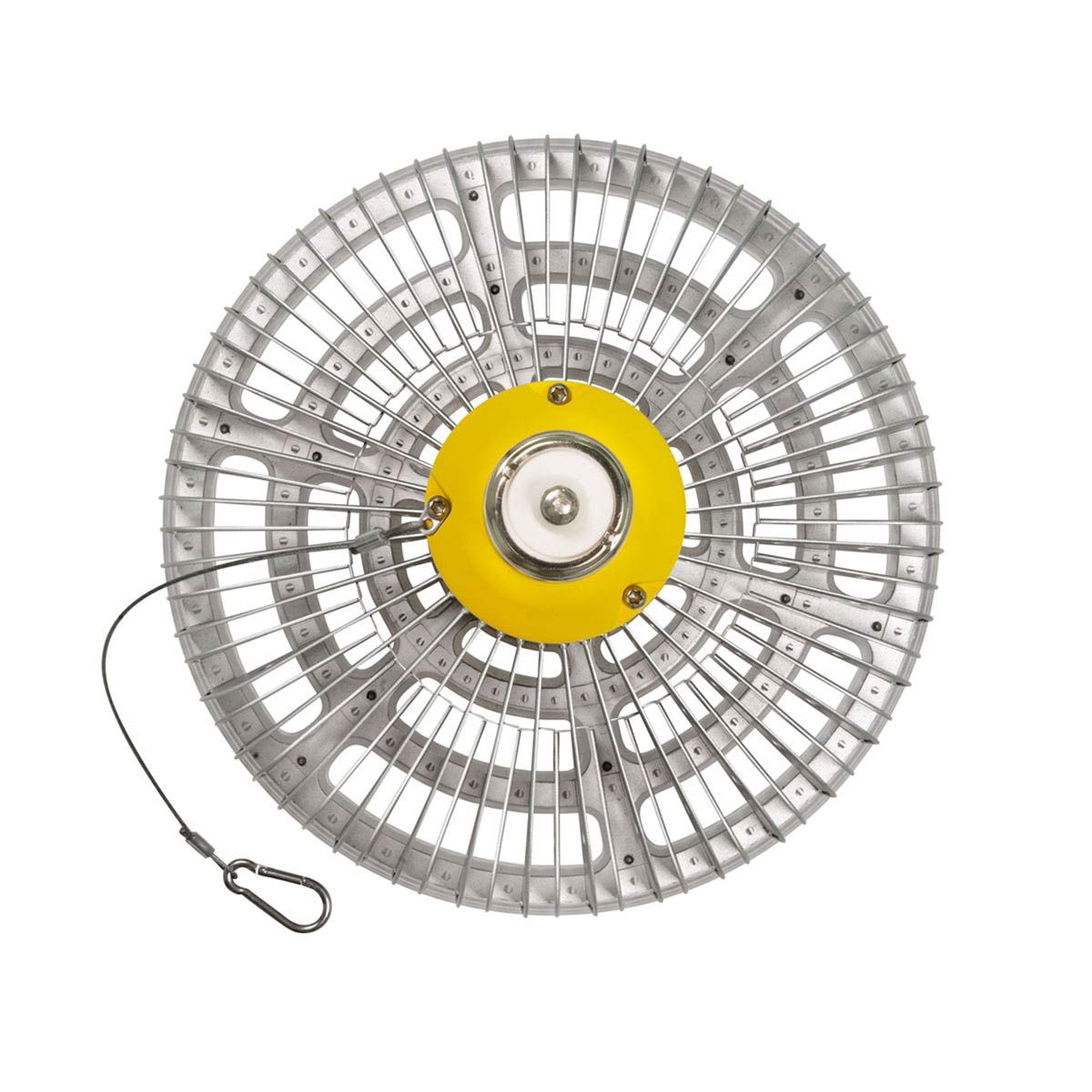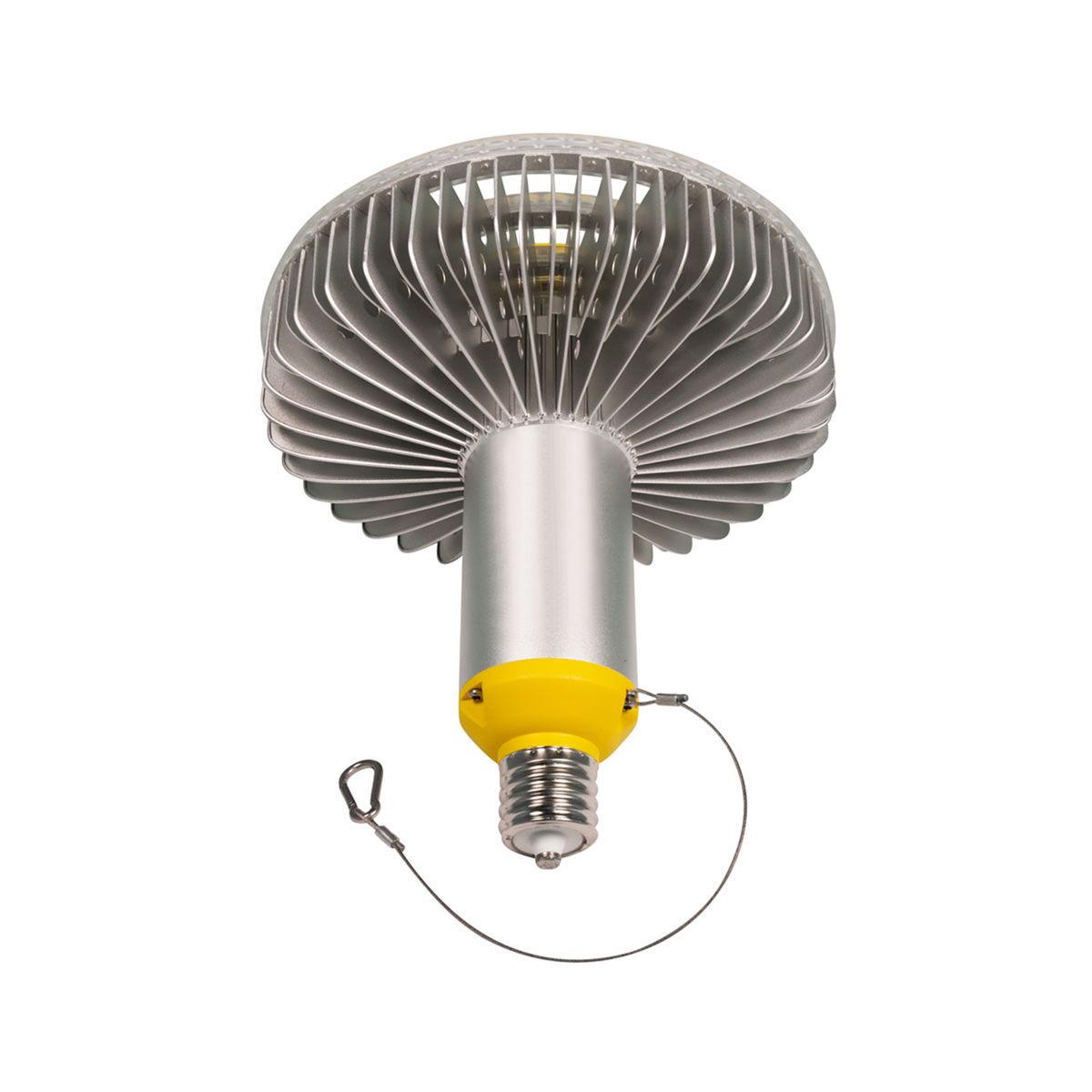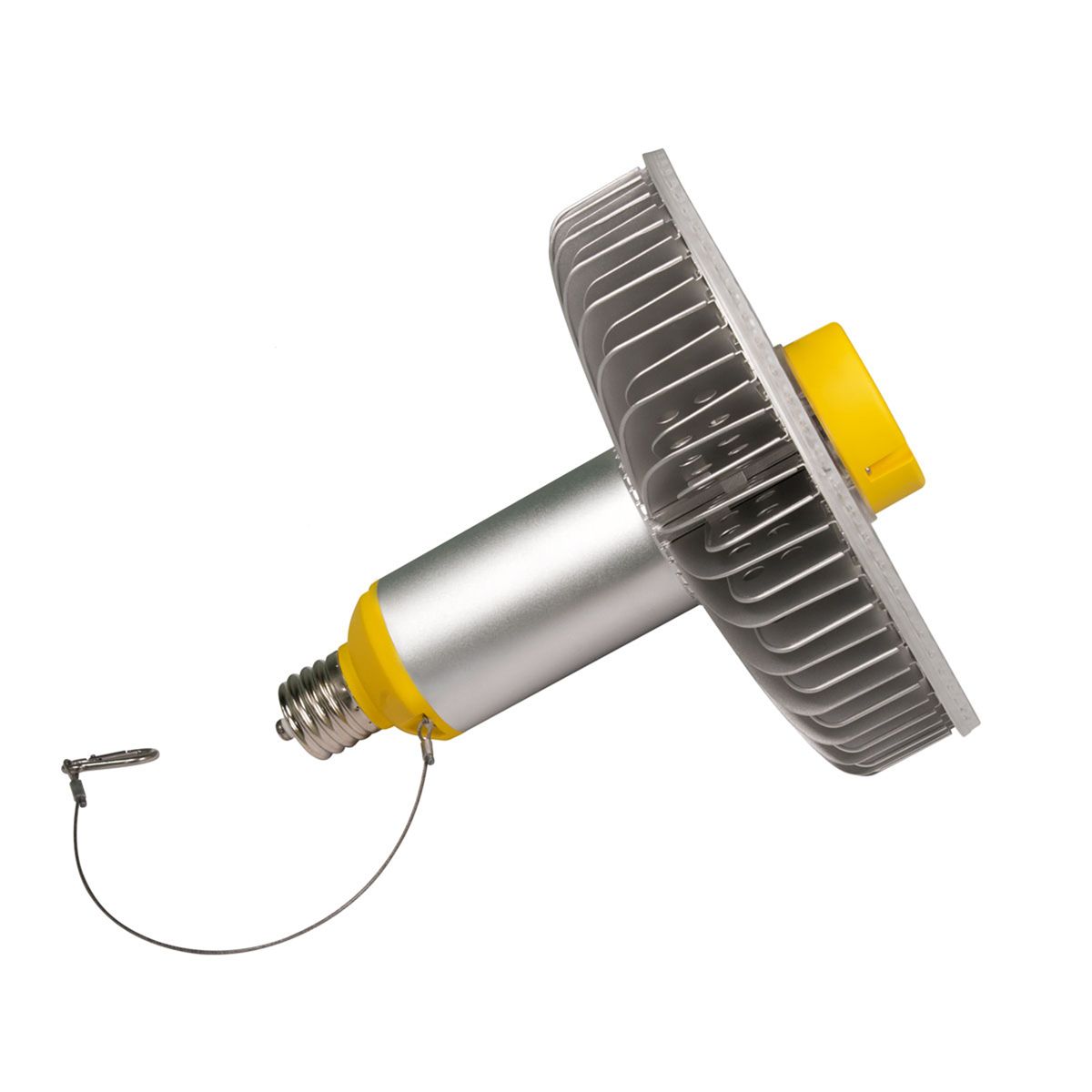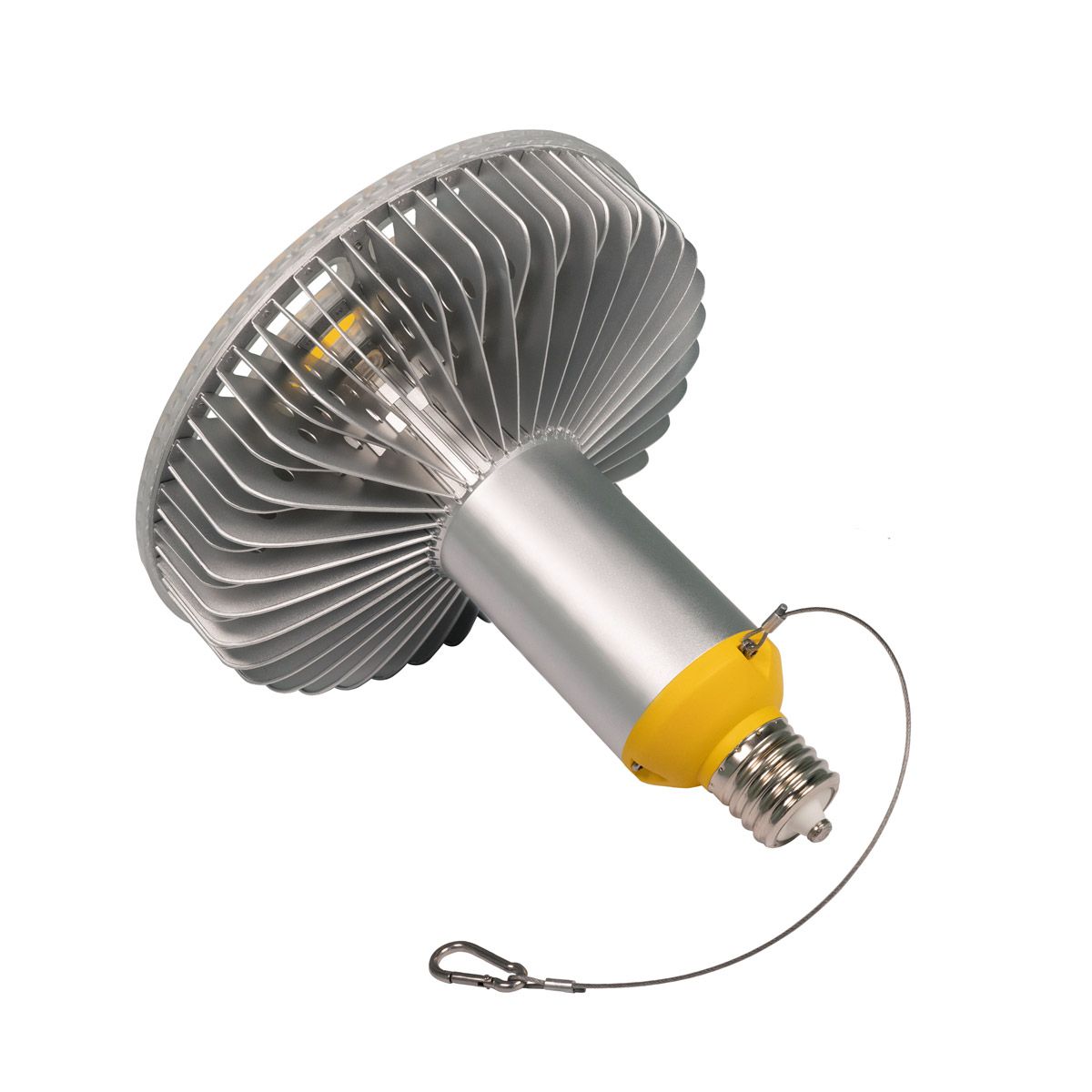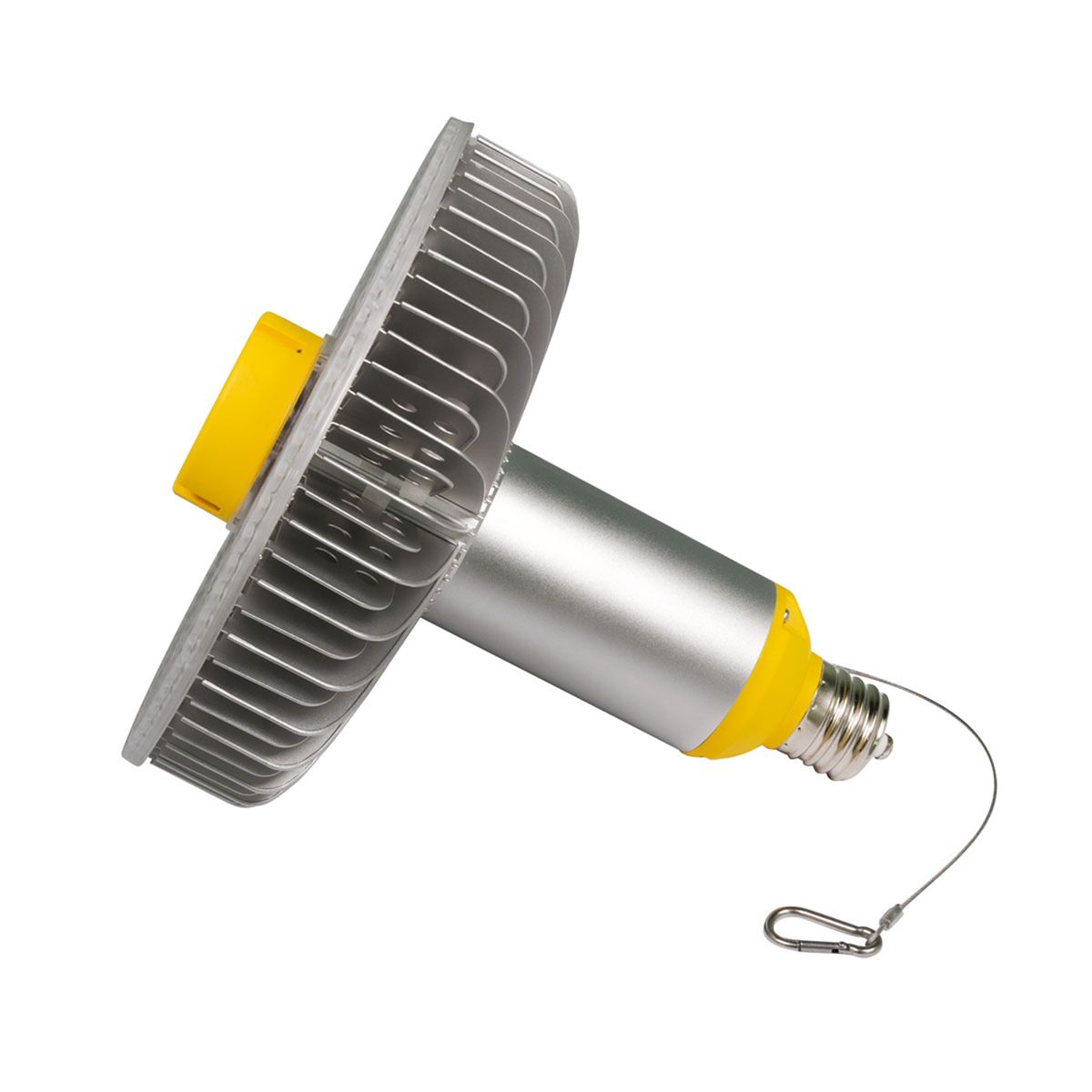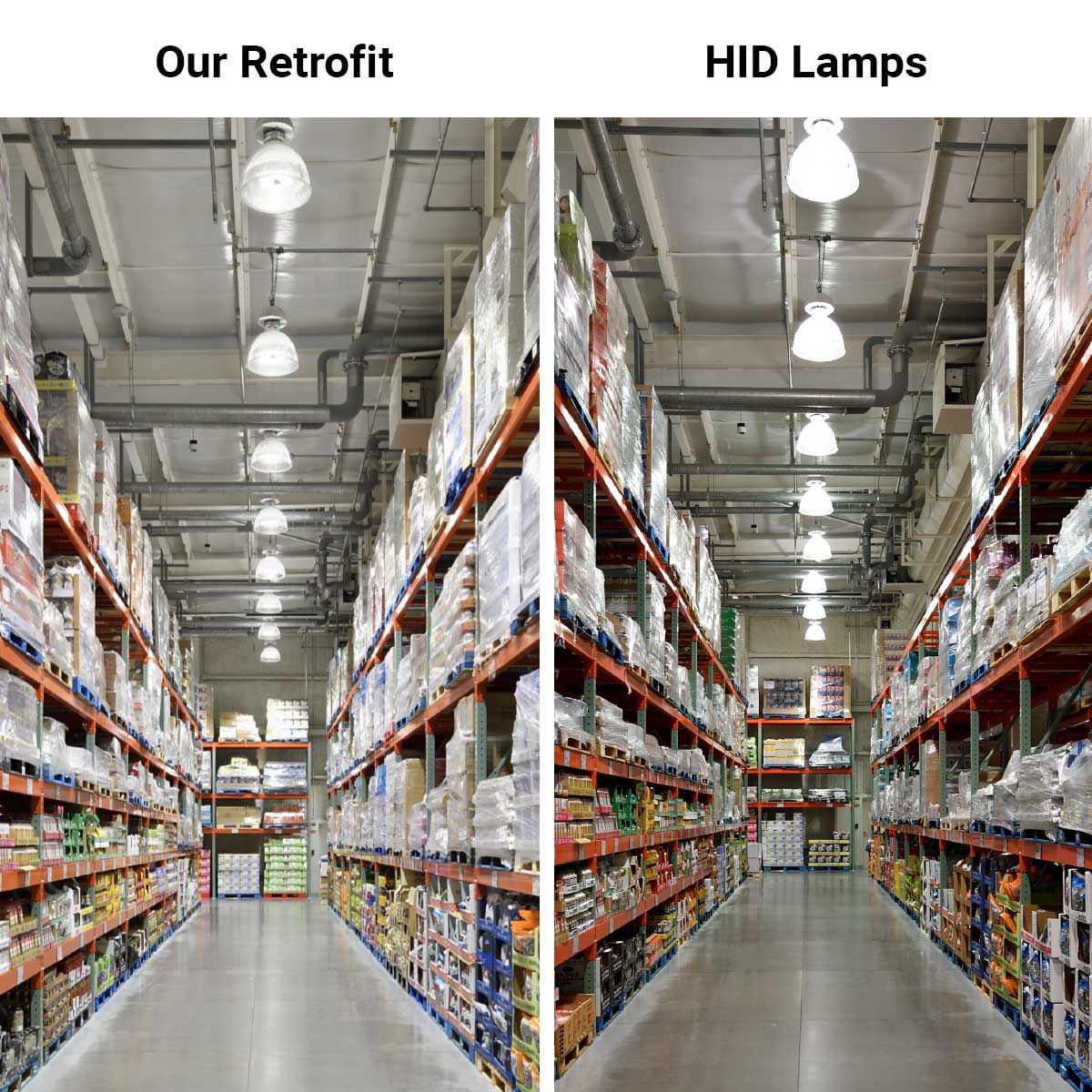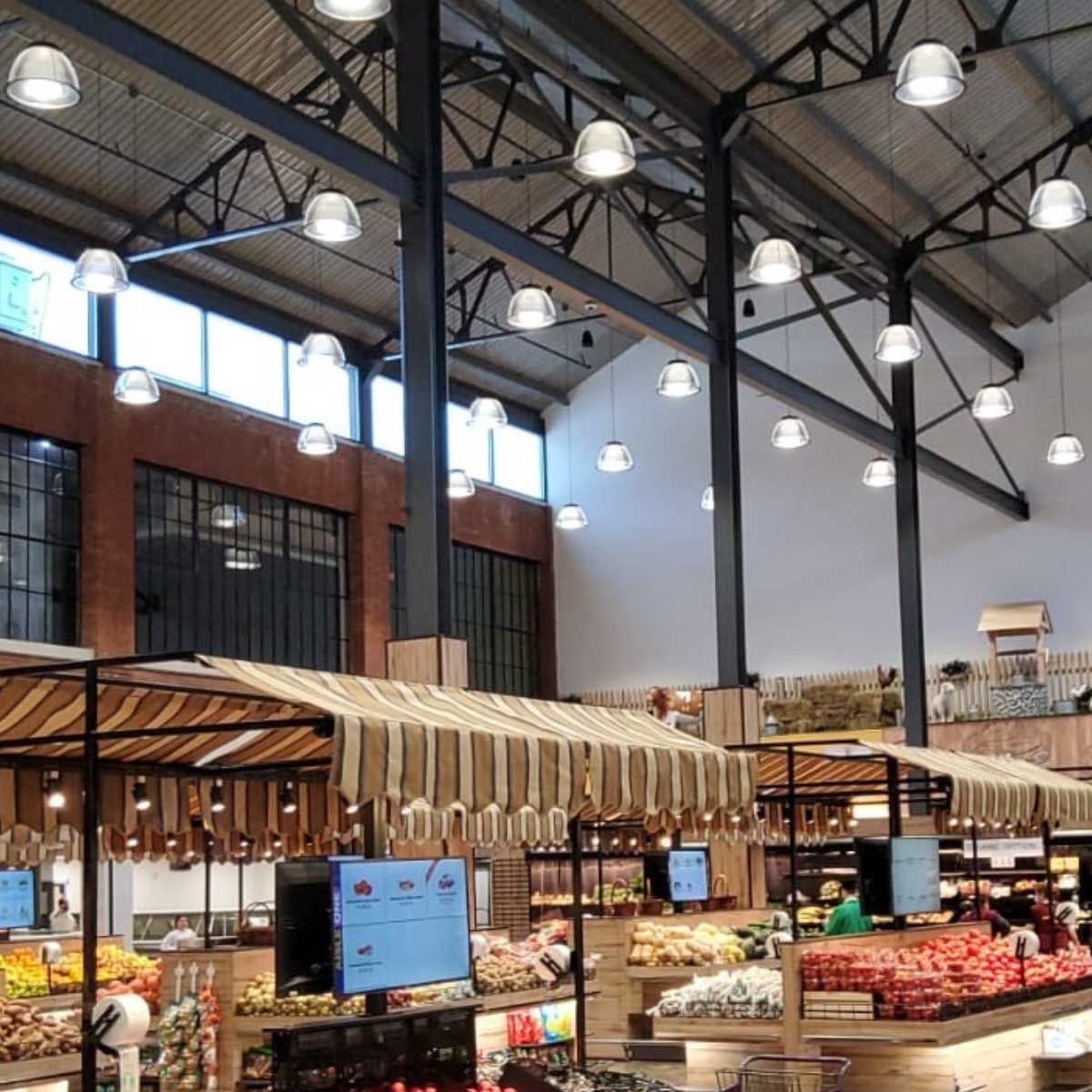 105W Flexible Spec-Grade LED Retrofit for HID
Color Temperature:
Natural White (4000K)
Annual energy savings (est)1: $154/light
Replaces 400W MH, HPS, and MV
Fast screw-in install for magnetic ballasts
Ballast-bypass for all other fixtures
Exceptionally low glare for greater visual comfort
15,000 lumens perform as well as competing retrofits of 20,250 lumens
Retrofit recessed downlights and vented or open high bay fixtures
90° cutoff delivers 1.6 to 2x more footcandles on target than competing retrofits
40% lower operating temperatures thanks to innovative flow-through heatsink design
Safe (UL-listed!) for open, vented, and enclosed fixtures, including IC-rated downlights.
Phenomenal (<15 UGR) anti-glare performance surpasses even the recommended UGR for design & detail work
Lightweight installs, thanks to thin sheet-metal fins versus competitors' heavier die-cast construction.
Compatible with E39 and EX39 sockets.
An optional up-light accessory is available for eliminating dark ceilings.
Great for convention spaces, indoor venues, gymnasiums, warehouses, factories, airports, malls & more
Bypass Your Ballast or Just Plug & Play
Upgrade the old metal halide, high pressure sodium (HPS), or mercury vapor HID lighting in your commercial space to our 105W hybrid screw-in LED retrofit. 15,000 lumens ensure all the brightness you need while using a fraction of the energy. This hybrid lamp can act as either a Type A or Type B retrofit, making it compatible with all HID magnetic ballasts (including probe-start, pulse-start, CWA, and reactive ballast types). The hybrid feature means that you have options:
Plug-and-Play: Simply screw in the retrofit for an install that doesn't require an electrician and complete your lighting upgrade in a day, without having to shut down power.
Ballast-Bypass: Have an electrician bypass the ballast, wiring directly into the sockets. This will ensure longer lifespan, without the risk of you ballasts eventually failing.
Whether used for Type A or Type B operation, this hybrid retrofit is UL-listed for safety.
Pay Less & Get More: Zero Light Loss
Patent-pending optics integral to this glare-free LED retrofit offer a <15 UGR – which is even lower than what is specified for design and detail work. 35% more lumens are guaranteed to be on target, rather than being lost upwards and outwards (like with comparable options). That means the 15,000 lumens of this lamp are equivalent to 20,250 lumens of competitor's LED lighting! Between these advanced optics and the luminous efficacy of 143 lm/W, the average savings are 74%, when switching from a 400W HID light. Overall, you'll get better light output, at a fraction of the operating cost.
Uplighting to Avoid the Cavern Effect
Eliminate unnaturally dark ceilings (aka the Cavern Effect) and reduce glare by adding an uplight accessory to your retrofit. Add it now or later; it easily and securely clips on to the outer edge of the fixture for a quick addition. By reflecting the light emitted by the first ring of LEDs, it provides a mix of direct and indirect light. With this ring-shaped accessory added, 15% of the light will be reflected upwards and 85% will shine downwards. The result is a more natural style of light distribution that makes the room look bigger and more pleasing to the eye while maintaining high footcandle readings.
Smart Tech for Reducing Energy Usage
Our retrofit will run cool without the need for a fan, eliminating energy usage from running internal cooling for drivers. If used in a fully enclosed fixture, this IC-rated LED retrofit will operate in an ambient temperature of up to 122°F (44°C). For non-enclosed fixture (such as a vented low bay) or in an open-air installation, the max temperature increases to 149°F (65°C). If the air in your building reaches a higher temp, this light has an auto smart dimming function to reduce heat output and maintain safe operation. These fixture designs and options mean less overhead for you, year after year.