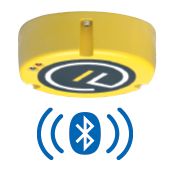 Bluetooth Mesh Controls for 28W and 45W Hybrid Screw-In Retrofit
Want more control over your 28W and 45W Hybrid Screw-in LED Retrofits? Maximize your energy savings and productivity with a factory-installed Avi-On Bluetooth Mesh. You'll get easy, instant setup plus full control over your lighting performance and schedule via a simple smartphone app. You'll get schedules and timers, grouping zones, and more. Also available are scene controllers allowing lighting to be changed at the press of a button, and a remote access bridge for management and monitoring of multiple deployments from anywhere via web browser. For Avi-On phone support and online storage of all control settings, please also add the one-time Avi-On Activation Fee to your cart.
Please note that factory-installed Bluetooth Mesh Controls require ballast bypass installation, must be purchased at the same time as the light, and are not compatible with the Occupancy & Daylight Sensor (please select one or the other).