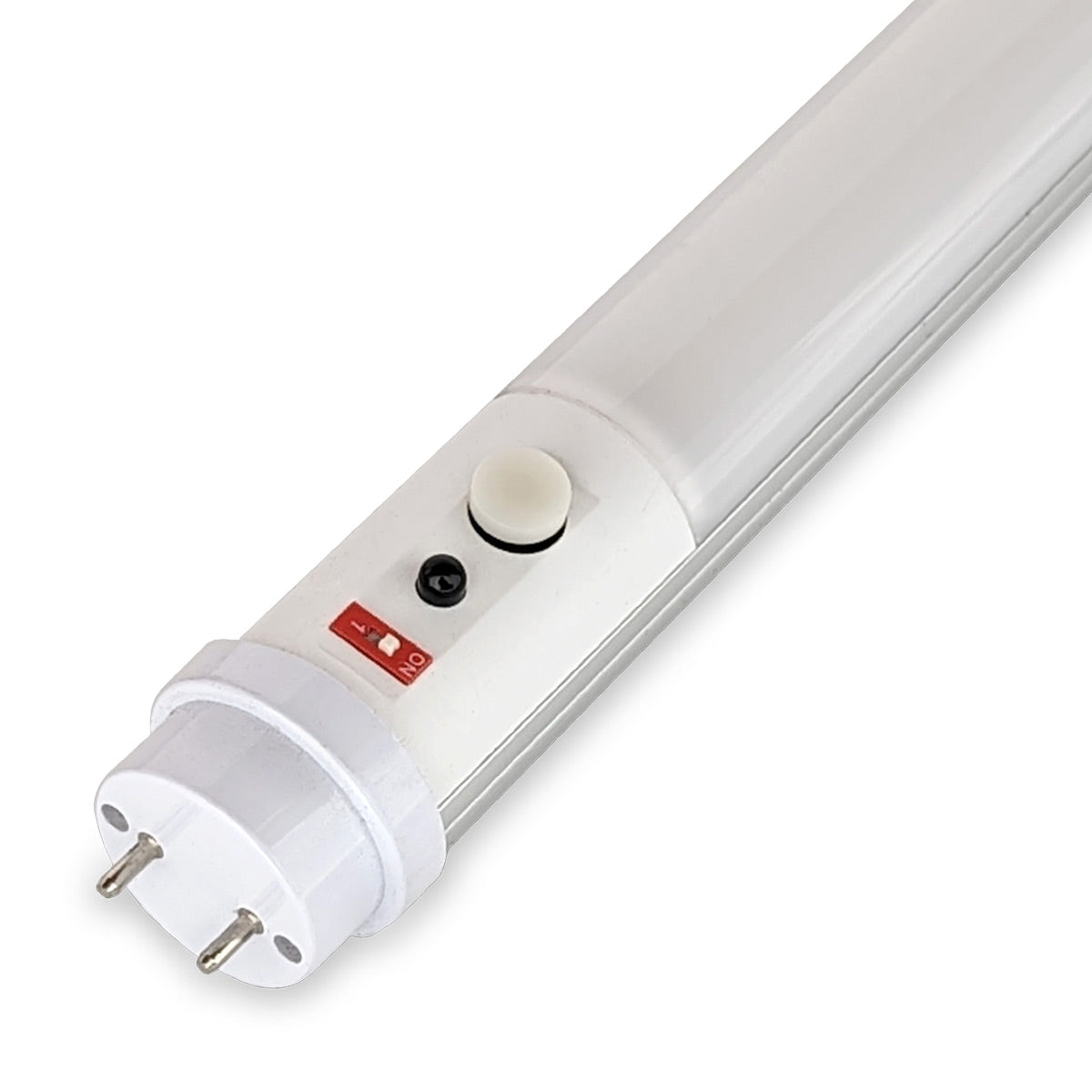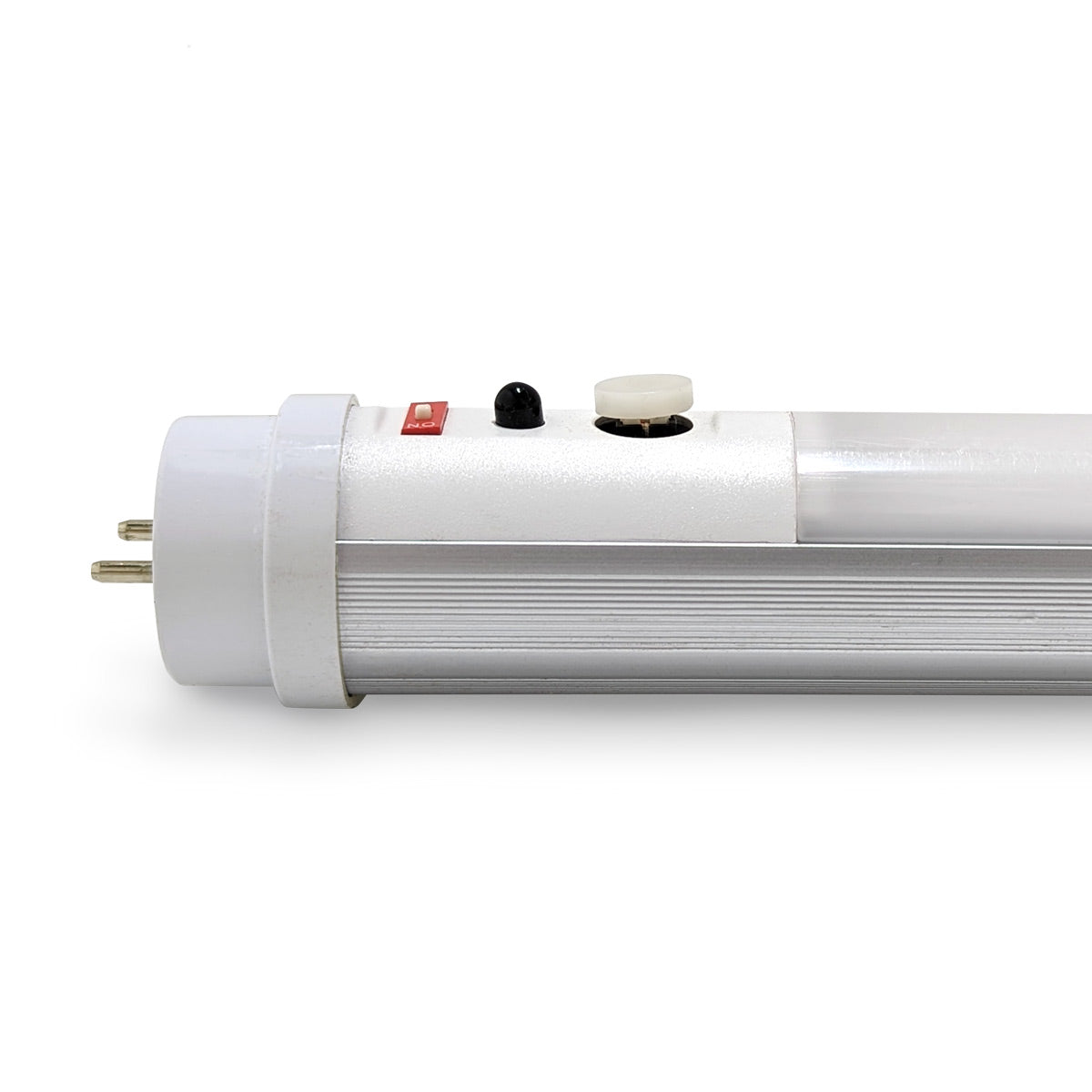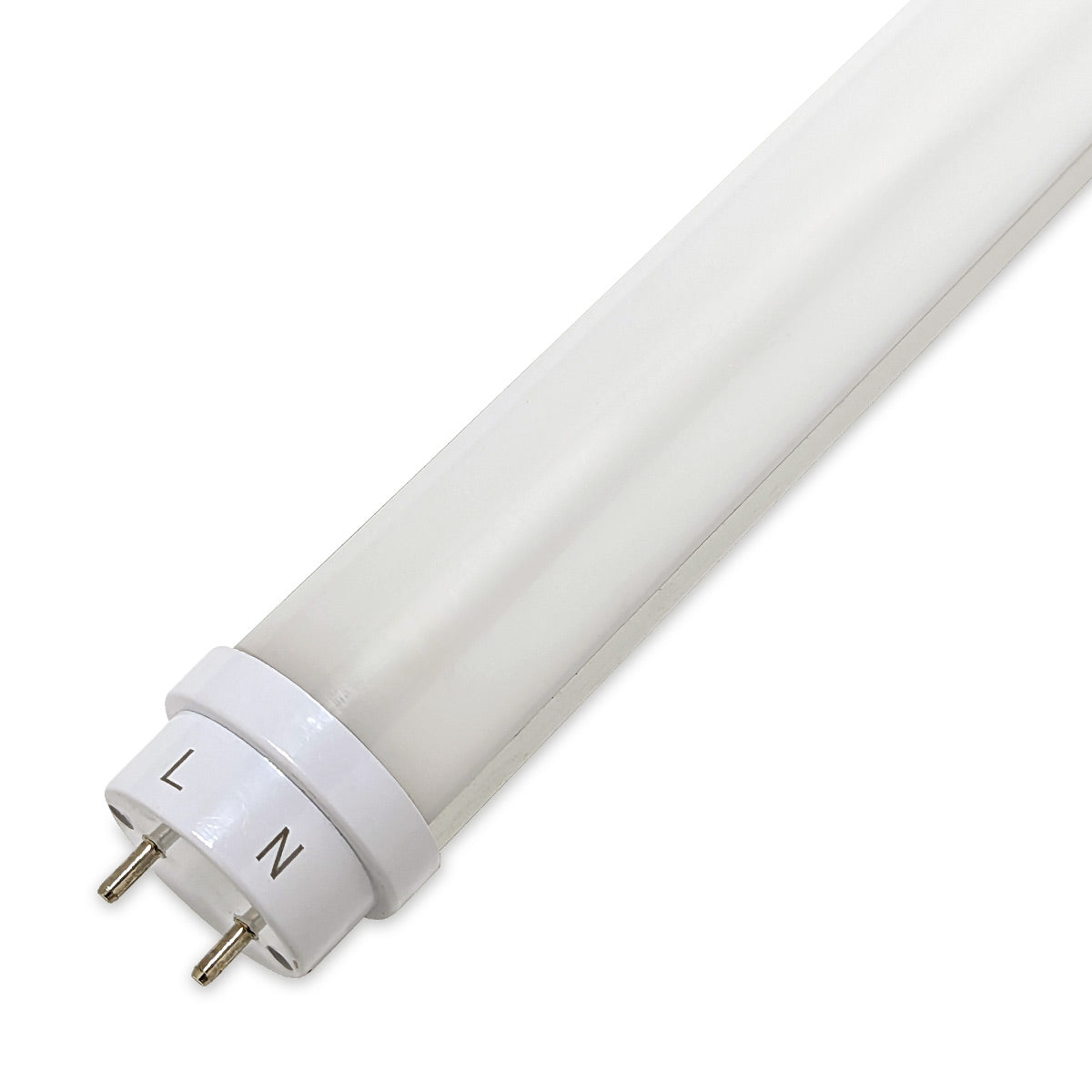 4ft LED Tube - 14W / 1,800 lm - with Emergency Backup - Pack of 25
Annual energy savings (est)1: $236/pack
Replaces 32W T8/T12
1,800 Lumens / 129 lm/W

Built-In Emergency Battery
Push Button for Periodic Testing
Add emergency backup lighting to your space without adding new fixtures—simply install our 4ft LED Tubes with Emergency Backup in your existing fluorescent fixtures. Pay lower energy costs, enjoy long lamp life, and stay safe when the power is out.
These clever LED tube lights combine ordinary lighting and emergency lighting in one.
In ordinary lighting mode, on/off is controlled by a wall switch, as normal. When a power outage occurs, emergency mode takes over and provides 90 minutes of emergency lighting to ensure employees and visitors are able to exit safely. Once power is restored, the light returns to normal operation, and the battery begins recharging.
The emergency backup battery in this LED tube recharges off the mains power connection. A push button is included for periodic testing. An off switch allows the emergency function to be turned off when emergency power is not needed, such as when the lamp is in transit or storage, to preserve battery life.
This 4ft LED tube is safe for use in enclosed or open fixtures. Simply bypass the ballast in your fluorescent fixture to install.
Order yours today.
Note: This lamp must be installed with a non-shunted tombstone. Shunted tombstones cannot be used with this lamp. If you need non-shunted tombstones, see the Accessories section below.
| | |
| --- | --- |
| Wattage(s) | 14W |
| Replaces Wattage(s) | 32W |
| Light Output | 1,800 lumens regular, 1,050/500 lumens emergency |
| Luminous Efficacy (lm/W) | 129 lm/W |
| Average Lamp Life | 50,000 hours |
| Color Temperature(s) | 5000K |
| CRI | 83 |
| Base Type | Bi-pin |
| Lens Cover | Frosted |
| Installation | Ballast bypass requiring non-shunted tombstones on both sides. Wall switch side is Type B single- end power while the emergency end of the tube requires constant power. |
| Working Environment | Indoor |
| Light Type | Retrofits and Conversion Kits |
| Input Voltage | 120~277VAC |
| Temperature Rating | 68°F - 103°F |
| Housing Material | Aluminum & polycarbonate |
| Qty in Package | 1 |
| Certification | ETL |
| Warranty | 5 Years |
| Additional Specifications | Emergency battery - 24 hour charge time, 90 minute operating time |
1
Electricity cost savings pertain to when the light replaces existing older lighting. Savings are calculated based on the light operating 12 hours/day, 7 days/week at the highest available wattage for the light & the highest wattage it is specified to replace, at a utility rate of 12 cents/kWh. If lights are sold in a pack, cost savings is based on the total number of lights in the pack. Actual savings will vary depending on usage, replacement, and rates.
Use our energy savings calculator to calculate your own savings.
Accessories for 4ft LED Tube - 14W / 1,800 lm - with Emergency Backup - Pack of 25