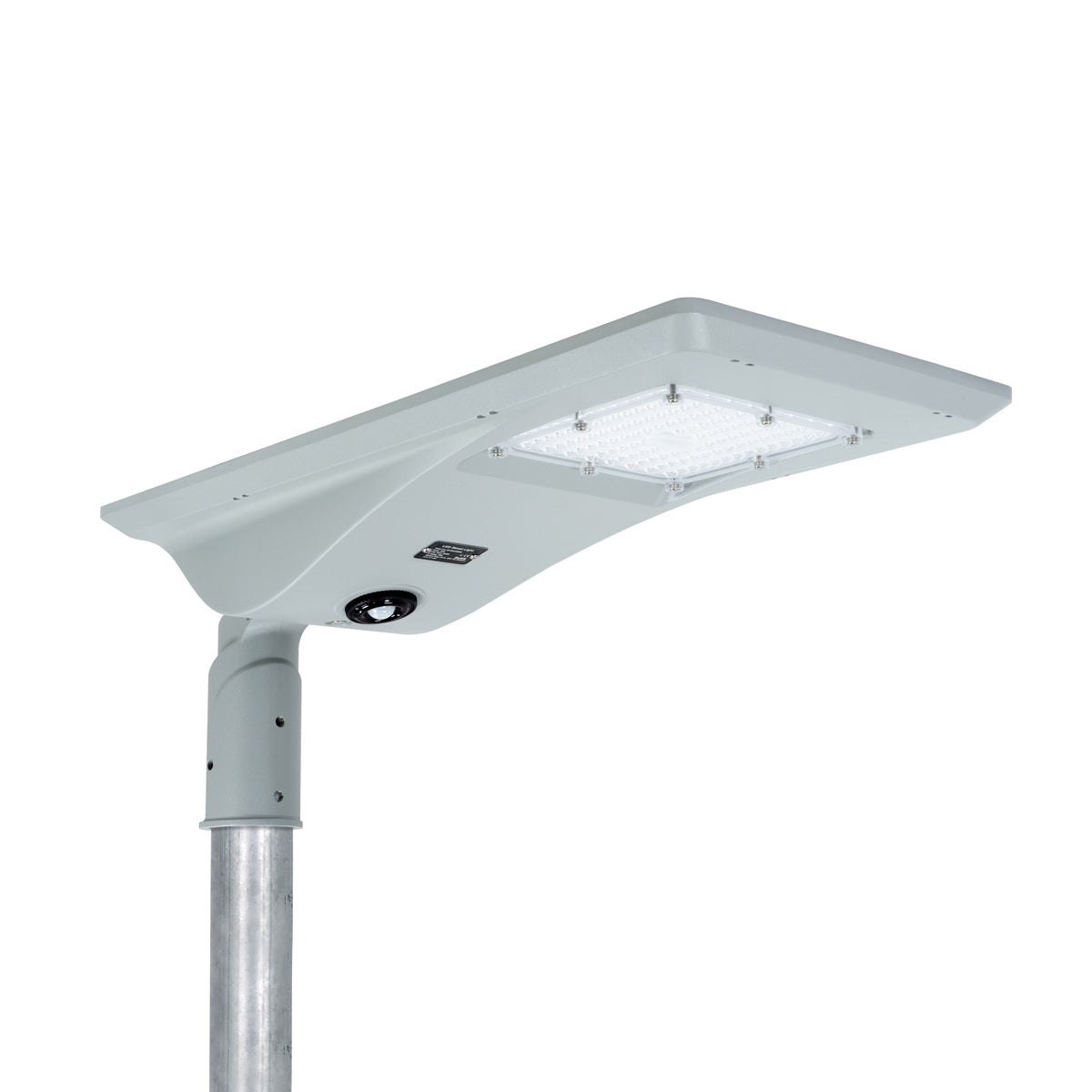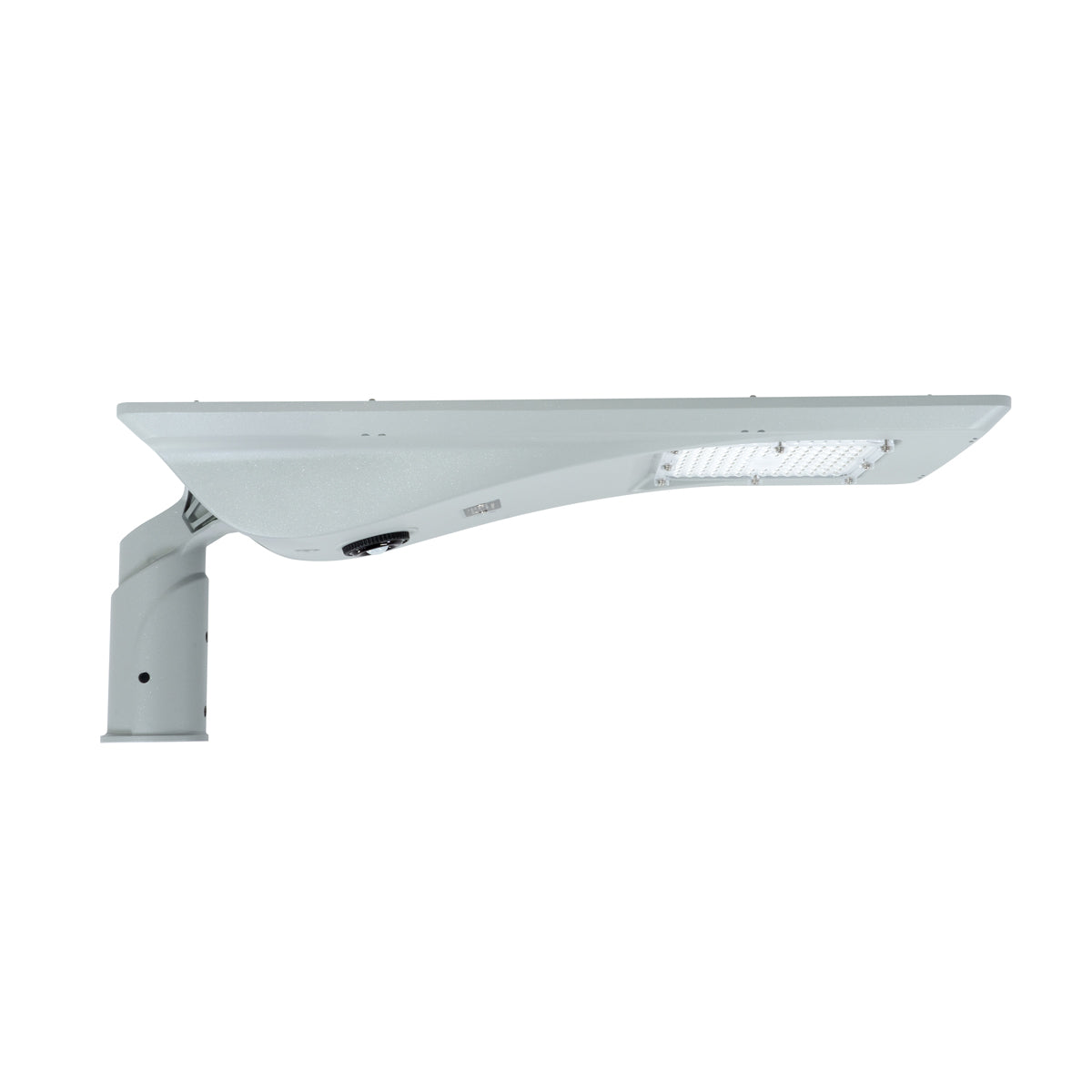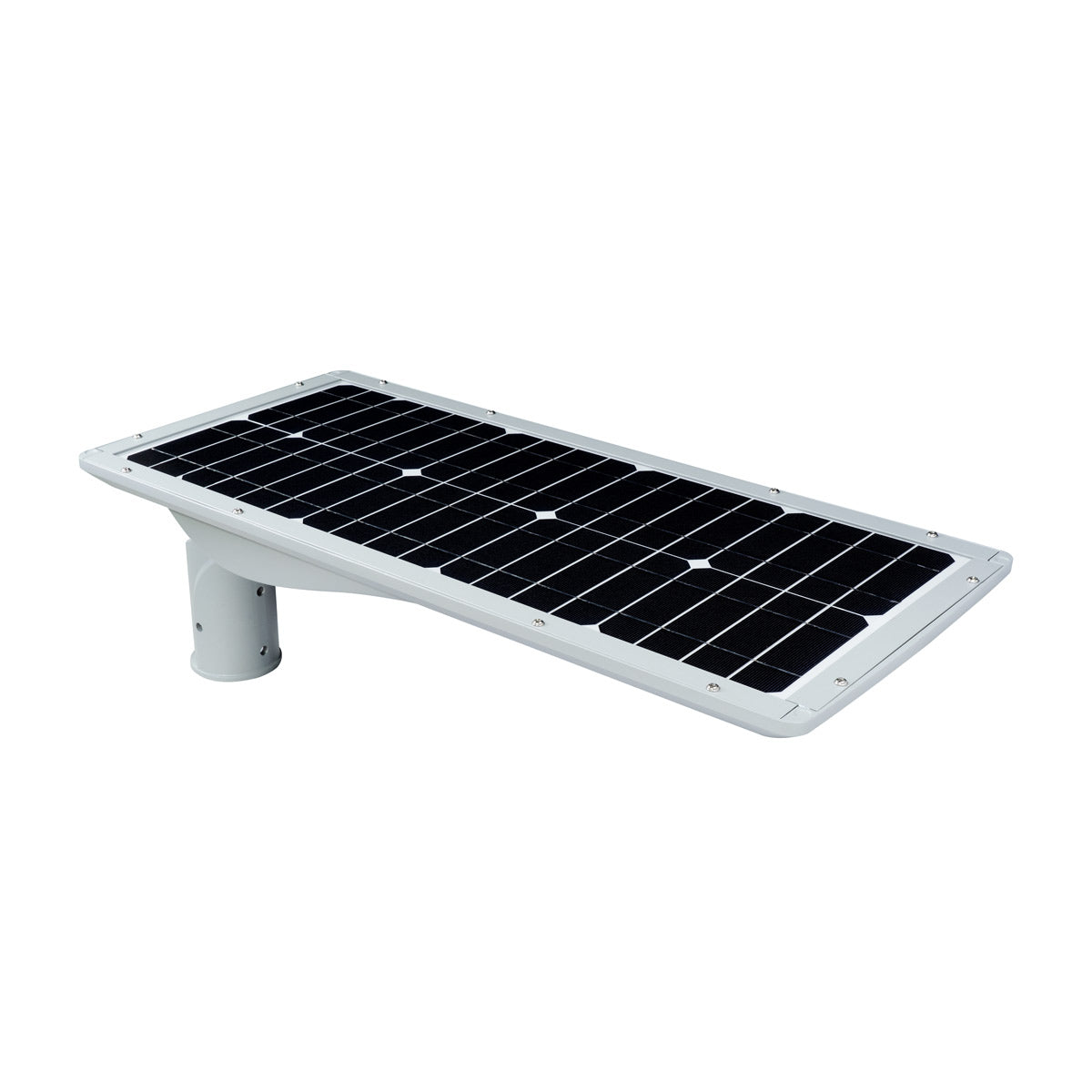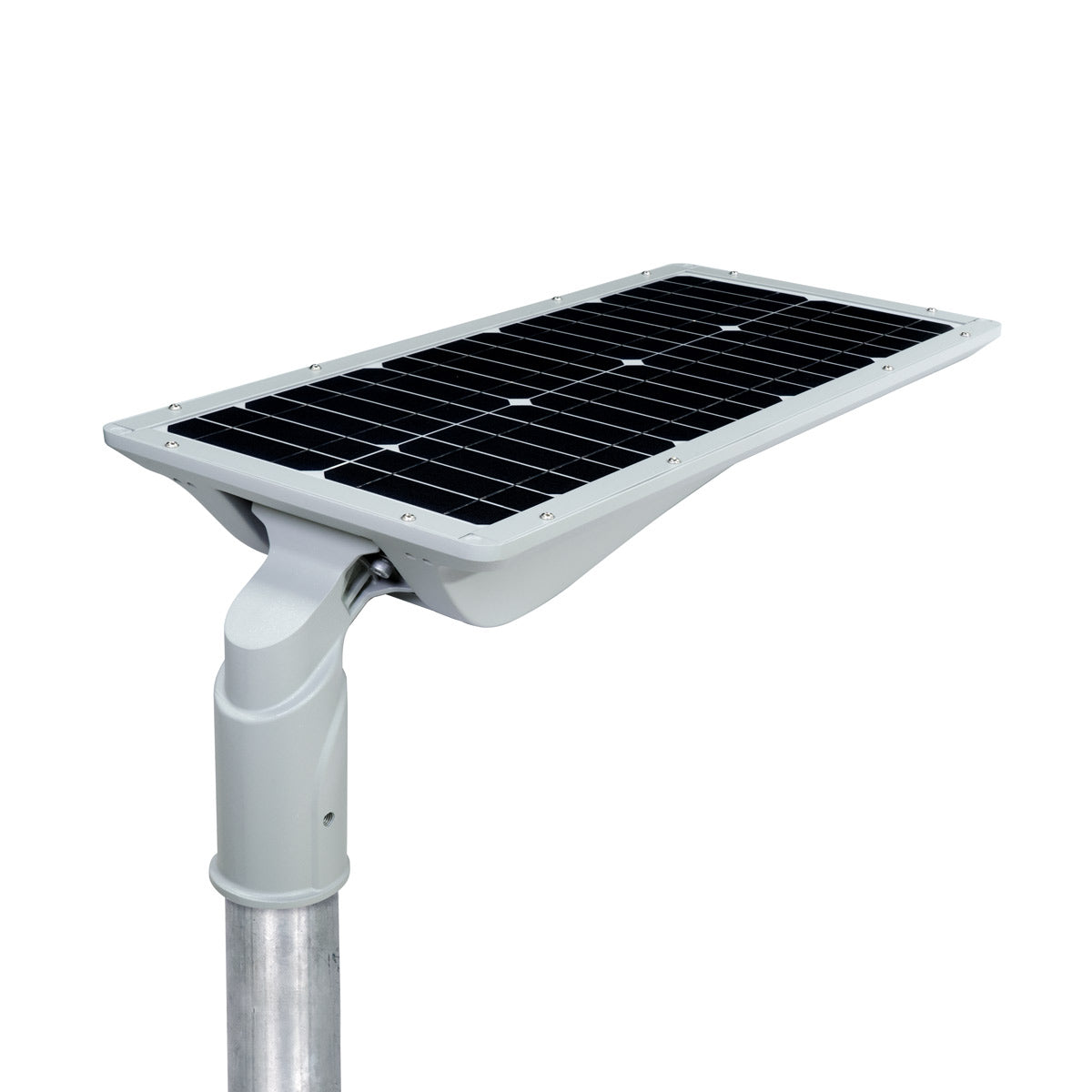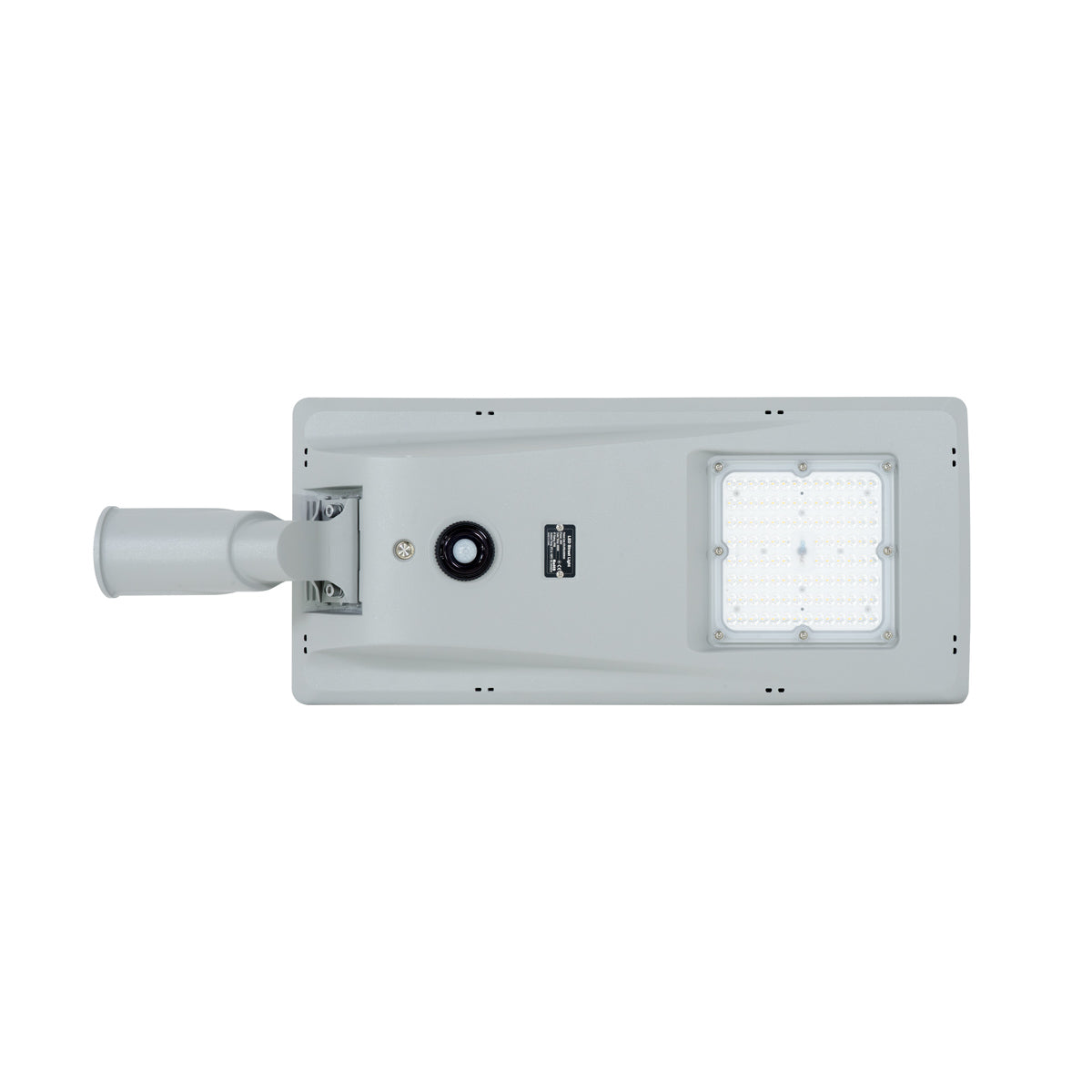 Solar LED Area Light - 30W - 6,000 Lumen - All-In-One Design
Annual energy savings (est)1: $115/light
Comparable to 250W HID
6,000 Lumens / Zero Energy Use

4000K CCT
Type II Distribution Pattern
Cheaper to Install, Much Cheaper to Operate
Cut your road & area lighting bill by 100% when you choose solar LED lighting.
And, with no electrician required for installation and no access to the electrical grid needed, our 30W solar street light also cuts your setup costs significantly, compared to wired fixtures. 

Runs in Rainy and Sunny Weather

Our All-in-One 30W solar LED street light combines ultra-high lighting efficiency with built-in solar power storage and intelligent lighting controls to provide effective and reliable lighting, night after night. 
The sleek LED road light features a fully integrated Deep Cycle LiFePO4 battery, charged by a mono-crystalline embedded in the top of the fixture.
While a single charge can provide approximately 8 hours of full-power lighting, the built-in intelligent mode allows the light to operate through as many as 4 continuous rainy days.
Intelligent mode settings can be customized using the optional remote control (available in the Accessories section).
Built-to-Last & Customizable 

Our LED streetlights are rust-, dust-, and waterproof, and are made of tough die-cast aluminum. They look great, are low-profile and lightweight – making them easy to install.
They are suitable for installation on traditional vertical poles or ones with a horizontal arm. During the install, this lamp can be adjusted to have plus or minus 15°, or to have a 30° angle.
Wattage(s)
30W
Replaces Wattage(s)
250W
Light Output
6000 lumens
Luminous Efficacy (lm/W)
200 lm/W
Battery
LiFePO4 - 18Ah 12.8V (230Wh)
Average Lamp Life
50,000
Color Temperature(s)
4000K
Dimming
Yes
Occupancy Sensor
PIR
Charge Time
> 9 hours
Operation Method
Timer, dimming, PIR sensor - programmable by remote control
Base Type
Fixture
Light Distribution Pattern
Type II Medium
Recommended Installation Height
10 ft to 23 ft
Working Environment
Outdoor
Enclosure Rating
IP65
Temperature Rating
32°F to 122°F
Qty in Package
1
Warranty
3 Years
Additional Specifications
Operating time: Full power>8 hours,Intelligent mode 3-4 days
Solar panel type: Mono-crystalline
1
Electricity cost savings pertain to when the light replaces existing older lighting. Savings are calculated based on the light operating 12 hours/day, 7 days/week at the highest available wattage for the light & the highest wattage it is specified to replace, at a utility rate of 12 cents/kWh. If lights are sold in a pack, cost savings is based on the total number of lights in the pack. Actual savings will vary depending on usage, replacement, and rates.
Use our energy savings calculator to calculate your own savings.
Accessories for Solar LED Area Light - 30W - 6,000 Lumen - All-In-One Design