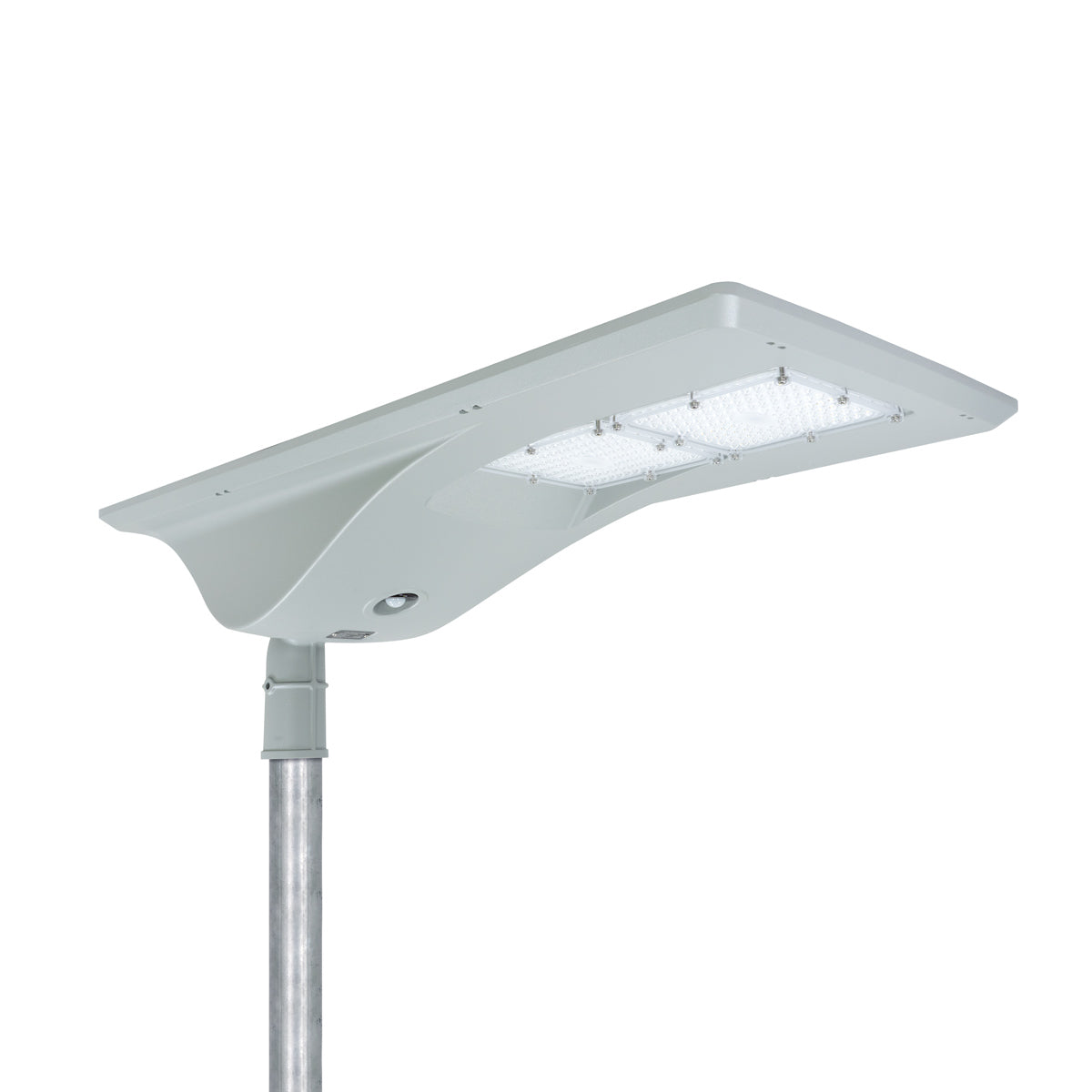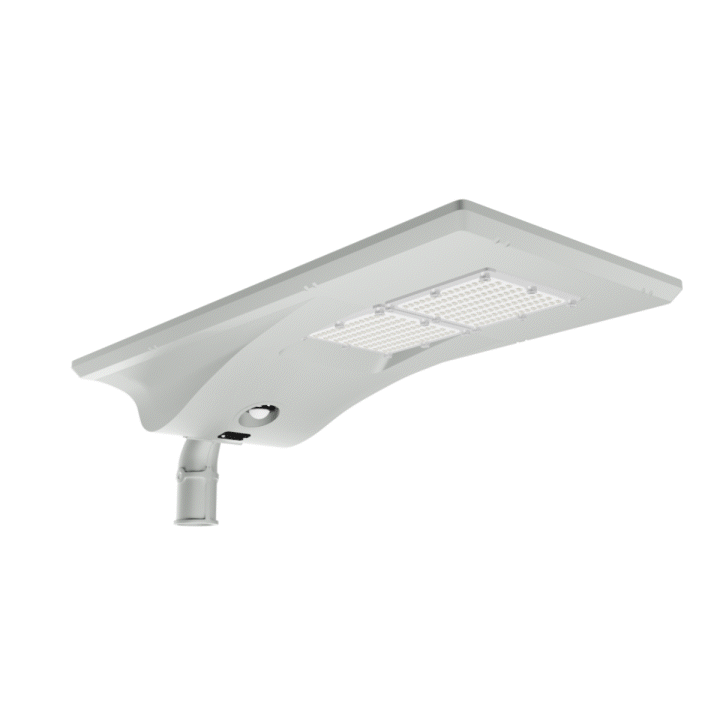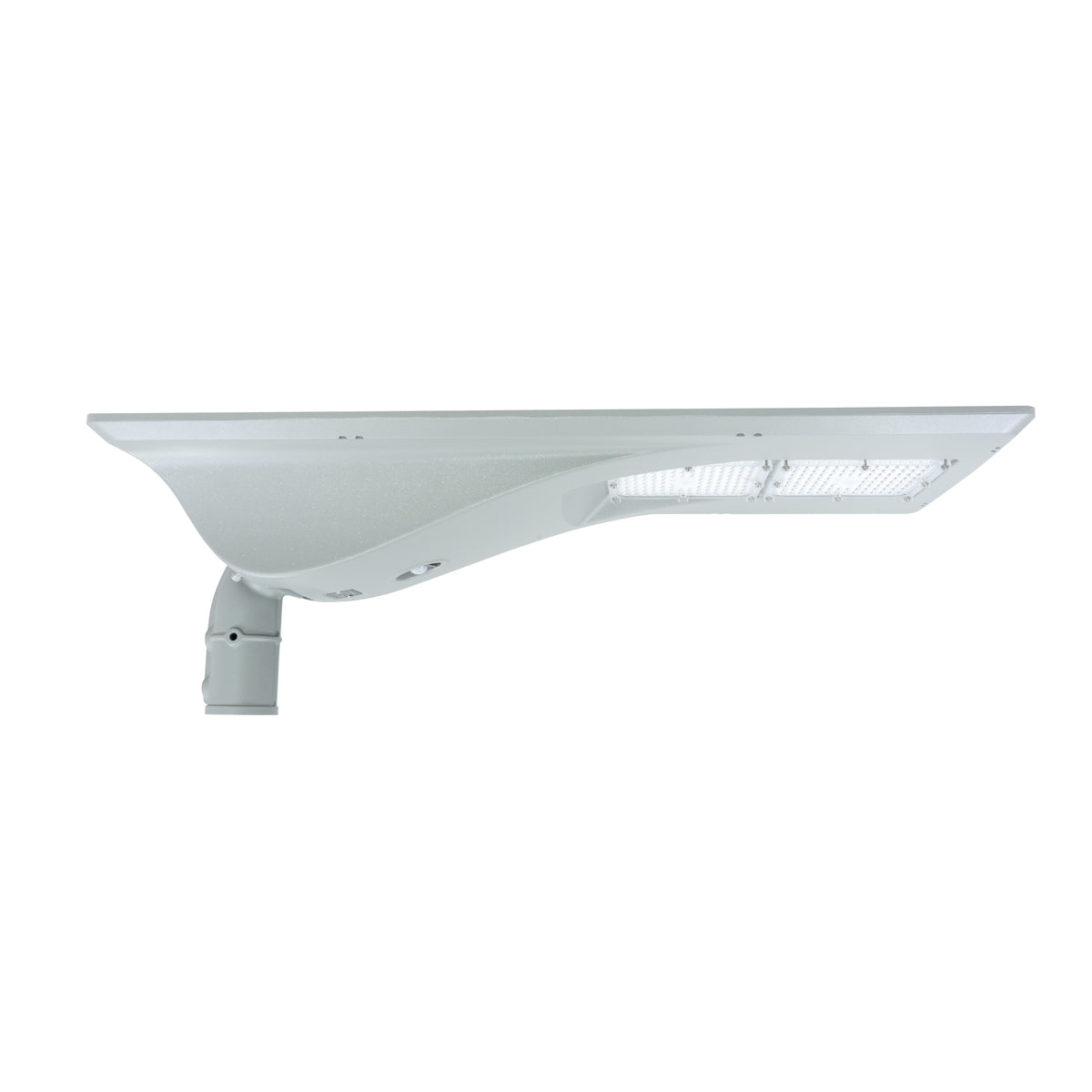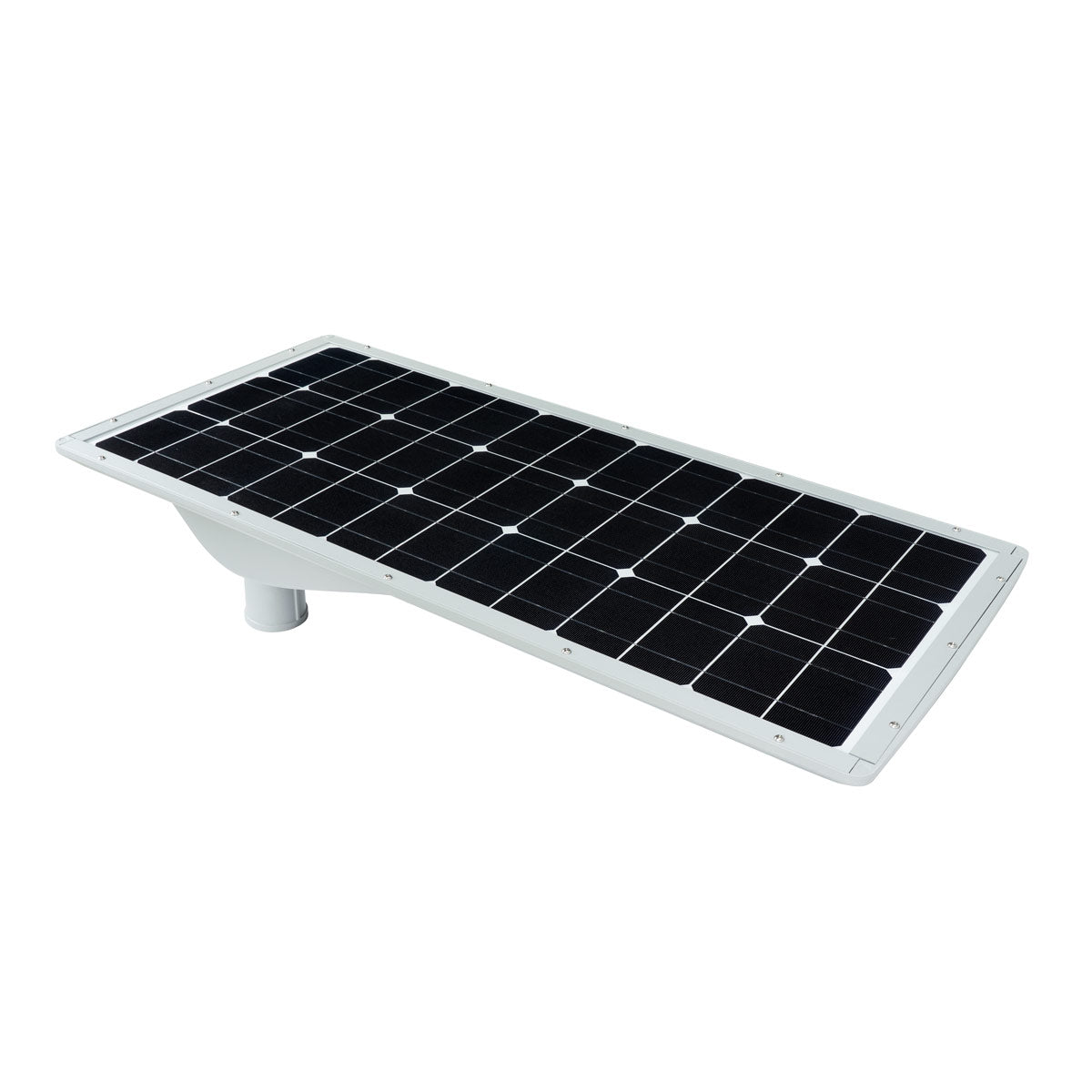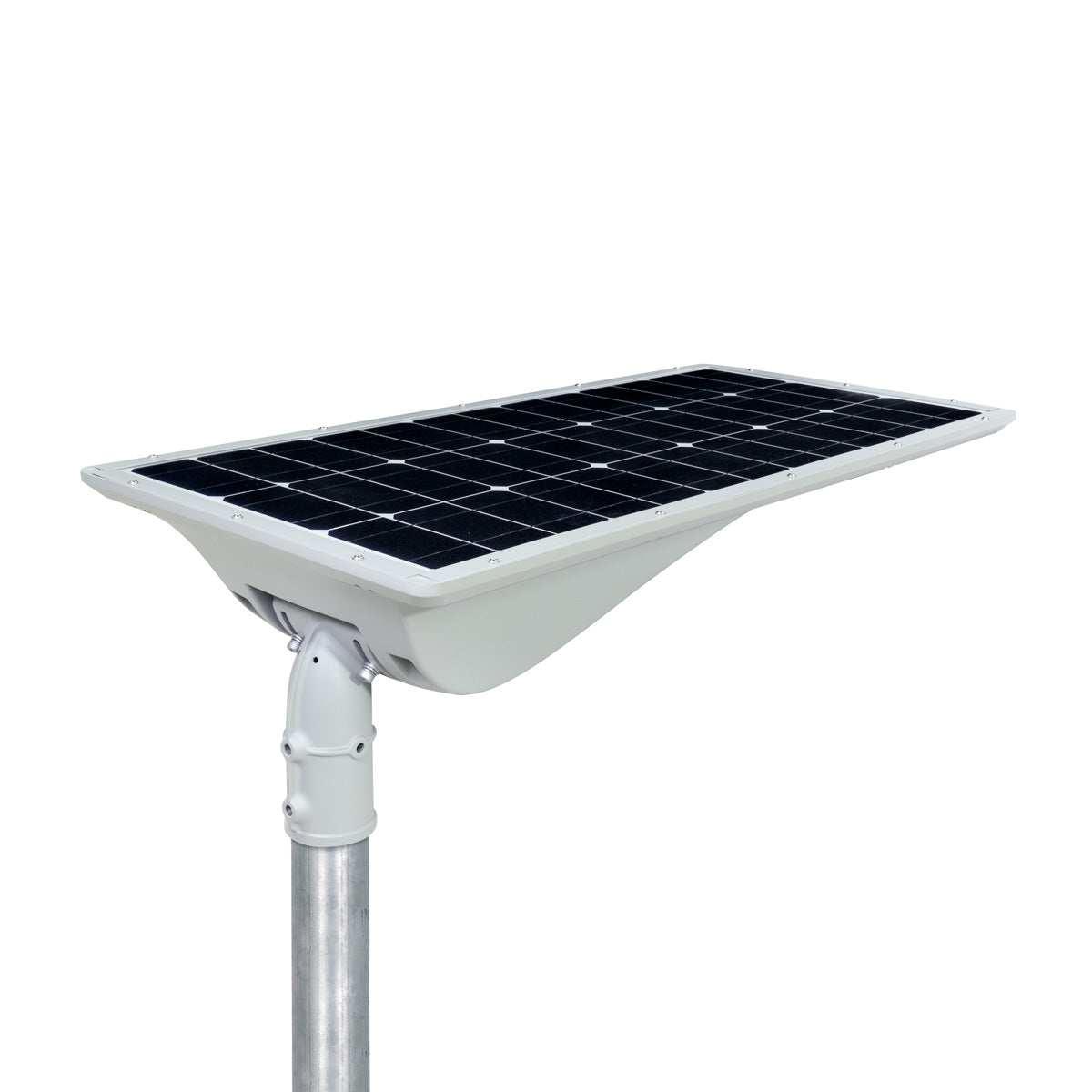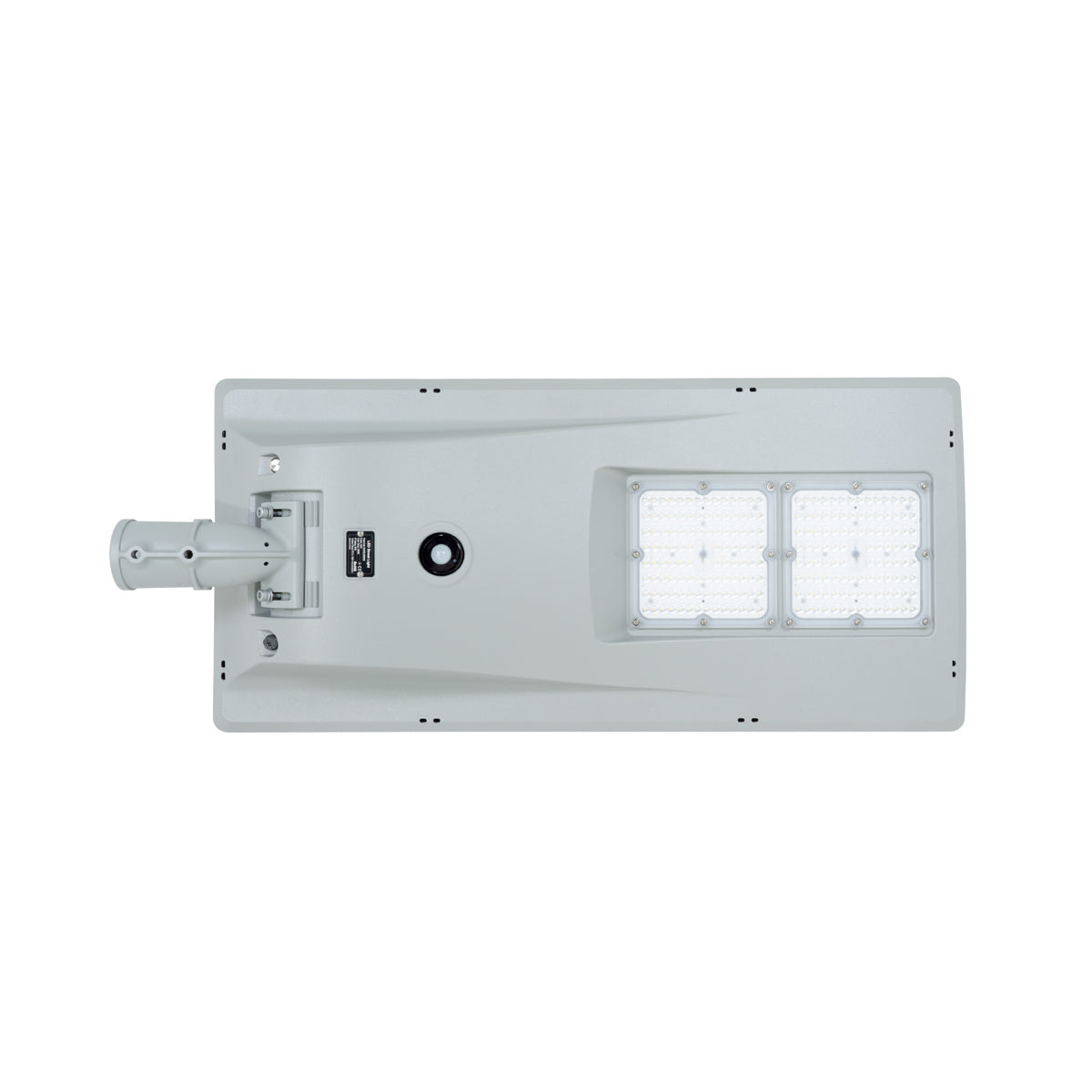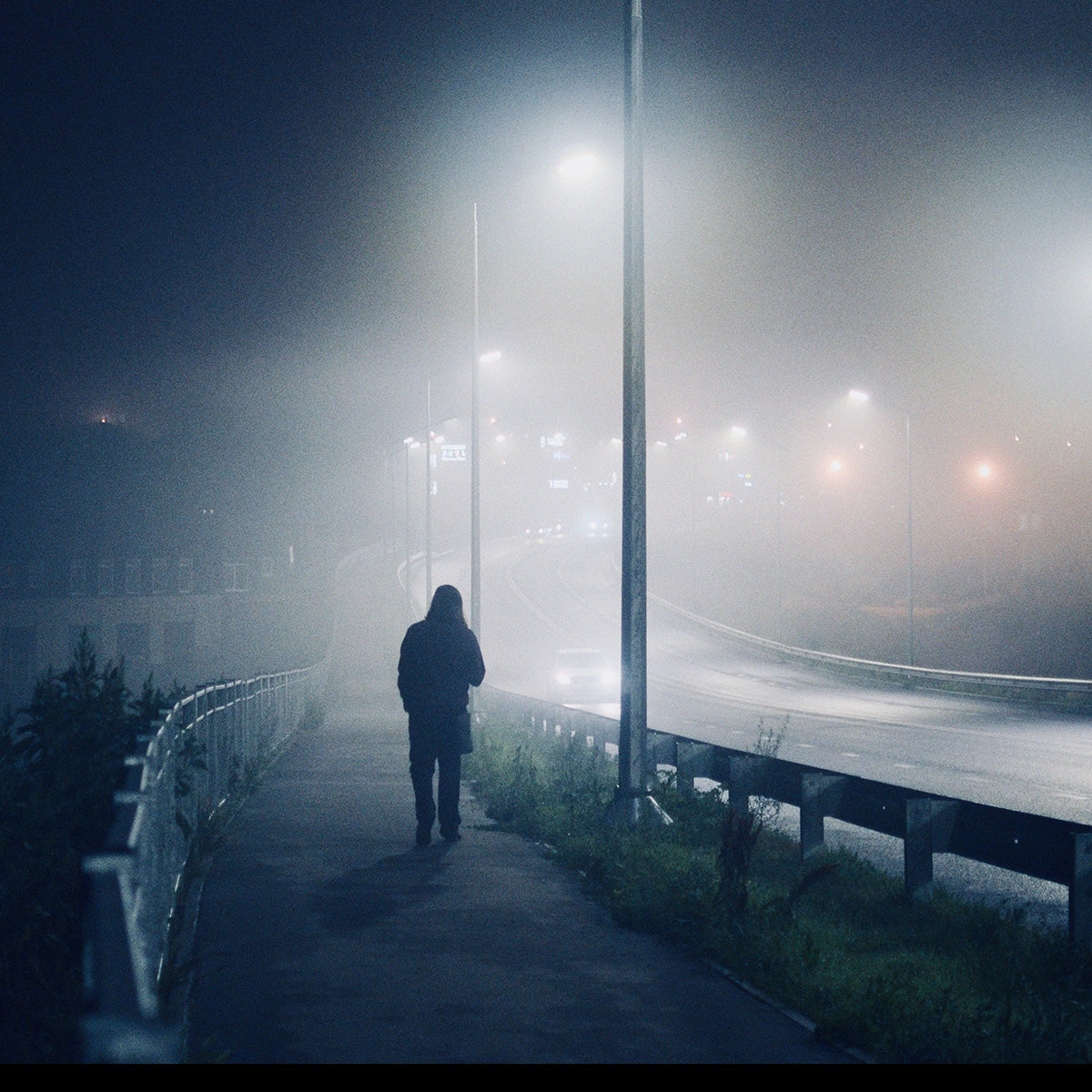 Solar LED Area Light - 60W - 12,000 Lumen - All-in-One Design
Annual energy savings (est)1: $178/light
Comparable to 400W HID
12,000 Lumens / Zero Energy Use

4000K CCT
Type II Distribution Pattern
Extra High Efficiency for High Brightness on a Solar Budget
If you are looking at LEDs to upgrade your 400W HID streetlights, you don't need a wired LED luminaire to get the brightness you're looking for. At 200 lumens/Watt, this 60W solar luminaire produces the same luminous output as conventional 90W to 100W LED streetlights—but without the electricity bill or the expense of an electrician for install. You'll get equivalent output at amazing efficiency levels, all while running on solar power.
The higher-conversion mono-crystalline photovoltaic panel integrated into the fixture contributes to the maximizing of efficiency and runtime, as does the system's built-in Maximum Power Point Tracking (MPPT) smart charge controller which, by providing increased efficiency in converting solar power to battery charge, significantly improves performance on cold, cloudy, and hazy days—when extra power is needed the most.
Outfit your roadway, alley, or parking lot with these sleek, highly efficient, and zero-cost-to-operate street lights today. 
If your municipality, development, or business has been looking for solar roadway lighting that shines like conventional street lights and looks great too, you've come to the right light:
Attractive, streamlined, one-piece design installs in minutes
Market-leading LED efficiency produces high luminous output on a small solar energy budget
Five-stage night mode preserves efficiencies while providing safety and security through the night
Intelligent Mode carries the light's operation through up to 4 rainy days
Timing, dimming, and motion settings are customizable for your local conditions using the optional remote settings controller (available in the Accessories section)
Solar panel, battery, dimmer controller, and motion sensor are all integrated within the fixture for reduced shipping costs and fast installation
Type II beam casts light over an area 1.5 times that of its mounting height, making it suitable for installation along wide paths, alleys, side streets, and rural roads.
Need help deciding on or laying out solar street lights for your application? We provide free professional lighting services for ELEDLights customers. Tell us about your project today.
Wattage(s)
60W
Replaces Wattage(s)
400W
Light Output
12,000 lumens
Luminous Efficacy (lm/W)
200 lm/W
Average Lamp Life
50,000 hours
Color Temperature(s)
4000K
CRI
70
Beam Angle
Type II
Installation
Mounts on 60mm diameter vertical pole or side arm. Included mounting adapter is ±15° tilt adjustable.
Working Environment
Outdoor
Enclosure Rating
IP65 (Protected against dust and low-pressure jets of water)
Light Type
Solar Fixture
Temperature Rating
0°C - 50°C
Housing Material
Powder-coated aluminum alloy with polycarbonate lens and mono-crystalline solar panel
Housing Color
Silver
Qty in Package
1
Dimensions
38" x 16.9" x 7.62"
Weight
33±0.67 lbs
Warranty
3 Years
Additional Specifications

460.8Wh LiFePO4 battery

60W Mono-crystalline solar panel with 9-hour charge time.

Solar charge controller is MPPT.

Operating time is >8 hours at full power and 3-4 days in Intelligent Mode.