Upgrade Your Dealership's Lighting for Less Than You'd Think
ELEDLights works with car dealerships in Pennsylvania and New Jersey to not only replace their high-energy-use lighting with LED but also to get the cost of that upgrade down to a number so low it barely needs approval.
When you source your lights from ELEDLights, we do the legwork to get all energy incentives available to you.
Already upgraded to LED? You may still be eligible for rebates on new lighting provided you install lights that are 20% more efficient than your current lighting. ELEDLights has plenty of options that meet or beat that number!
How Can I Afford a Lighting Upgrade in this Economy?
As dealerships look to reduce overhead and trim their budgets, rising energy costs aren't helping—yet they're an area where big savings can be made. Take lighting, for example: older, inefficient lighting is not only costing you twice as much as newer lights, it also comes with frequent re-lamping costs. And even older LED upgrades aren't keeping up with the energy savings you can get from the latest in ultra-high-efficiency lighting.
But, of course, it costs money to replace your lights.
That's where energy rebates and incentives come in. In order to move companies toward more efficient technology that puts less stress on the power grid, many utilities have set up incentive programs that cover a portion—sometimes a significant portion—of the cost of a lighting upgrade for a commercial property. In some areas, these incentives can take the cost of new lights down to as low as $1 per fixture plus tax. In other areas it may be more like $40 per fixture, which is still an excellent price to pay for new $200 luminaires.
How much money is available for your lighting upgrade depends in part on the incentives program available for your location and in part on the lighting decisions you make.
ELEDLights helps dealerships with both. And we provide that legwork at no additional cost when you source your new lights from us.
What's It Like to Work with ELEDLights?
Team Toyota of Glen Mills
Our electricity provider was offering energy credits. ELEDLights literally did everything for me, to the point where when they sold me the lights, the credits were already on there. Just an absolute wealth of knowledge. I couldn't recommend them enough to anybody that's looking to do any sort of project, large or small.
Upgraded Service Bay & Body Shop Lighting
Thompson Lexus of Willow Grove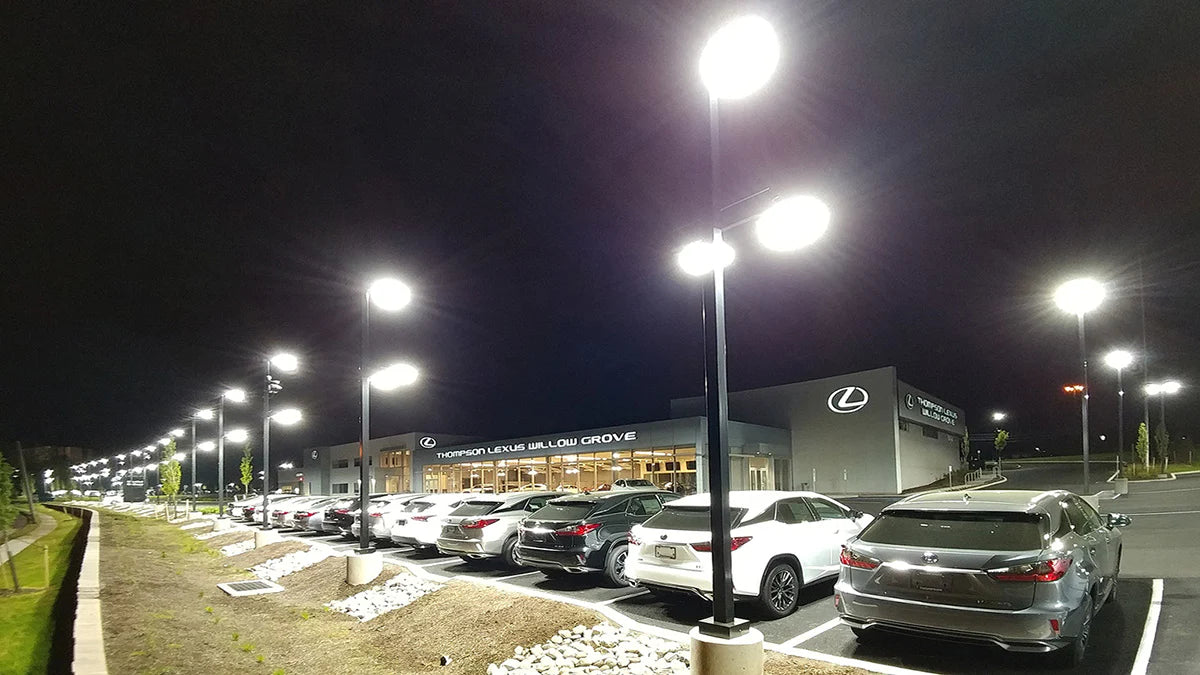 By pairing dimmable LED technology with innovative control capability and efficient scheduling, we boosted energy savings for this dealership's lot to 85% or more, even by the most conservative estimates. Respectful of nearby businesses and residents, and in conformance with township regulations, the LED fixtures around the perimeter of the property utilize forward-throw optics to prevent spillage into roadways or adjacent property.
Additional references available upon request.
We're a Full Service Lighting Company with Dealership Experience
From new construction to retrofit projects for both outdoor and indoor applications, ELEDLights provides full turnkey LED lighting solutions, eliminating layers of distribution and unnecessary cost. Through direct consultation or in cooperation with a client's architectural or engineering firm, ELEDLights can provide full lighting plans and point-by-point illumination studies to help you select the best and most affordable LED lighting for your dealership.
No Matter How Complex, We Make Your Lighting Project Easy on You
Ready to see how much you can save on your dealership's lighting upgrade?
Call 215-355-7200, text 267.266.8330, email lights@eledlights.com, or submit the form at the top of this page!
Is your dealership located in one of the 48 other states? We can still help you find and access all the energy rebates your location qualifies for.