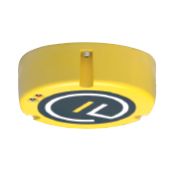 Occupancy/Daylight Sensor for Hybrid Screw-In Retrofit
Upgrade your 28W or 45W Hybrid Screw-in LED Retrofit with occupancy and daylight controls for better energy usage and longer lamp life. This two-in-one, factory-installed upgrade will allow you to control your lighting based on motion detection via an RF occupancy sensor and set it to dusk-to-dawn operation via a photovoltaic sensor. The RF occupancy sensor can detect motion from at least 50 feet away, even from an enclosed fixture. The control gives your light three levels: maximum, dimmed, and off. All motion and operation settings, including hold time and standby, can be controlled with an IR remote, which has an operating range of at least 66 feet. The controls come with four preset scenes for ease of programming.
Please note that the factory-installed Occupancy & Daylight Sensor controls require ballast bypass installation, must be purchased at the same time as the light, and are not compatible with the Bluetooth Mesh Controls option (please select one or the other).