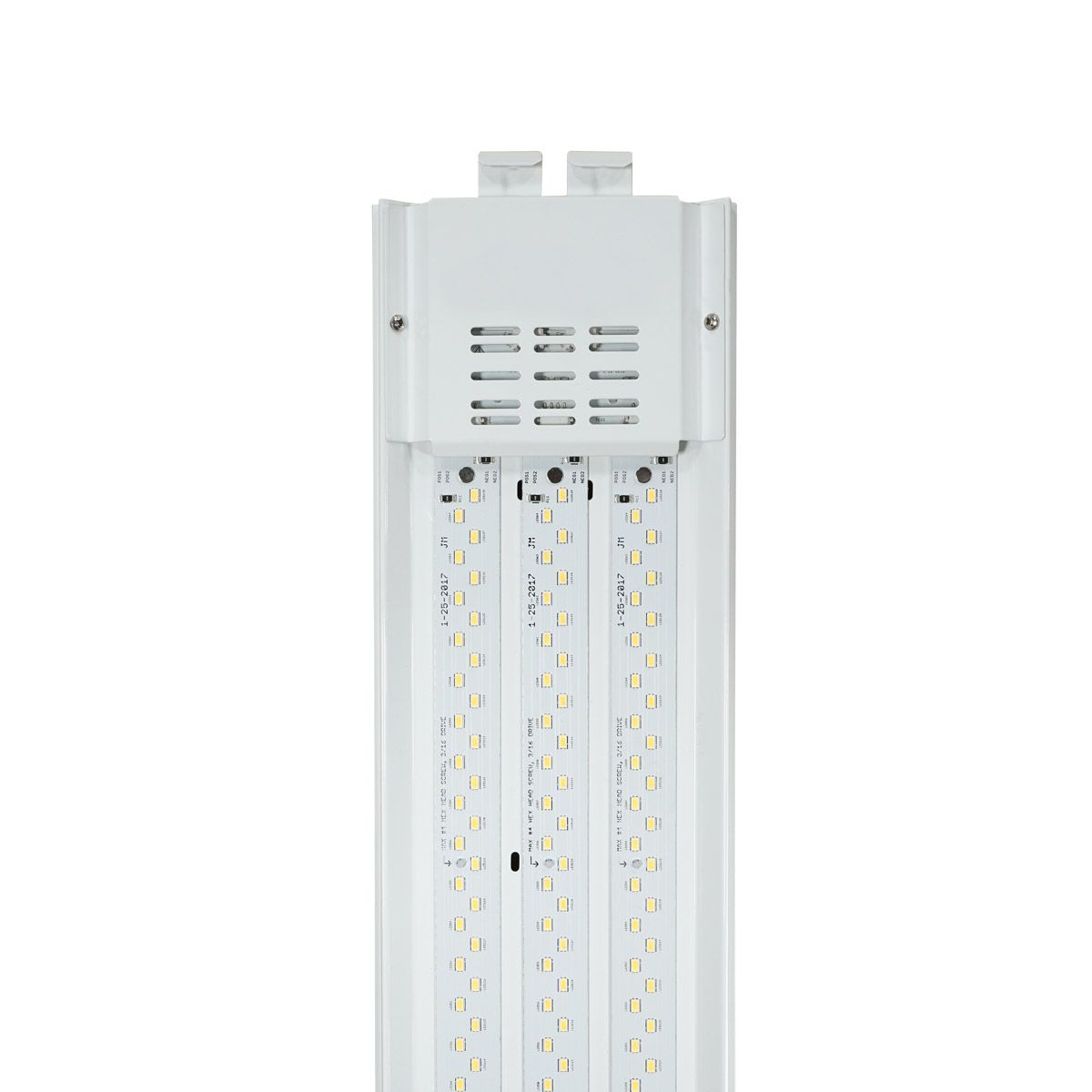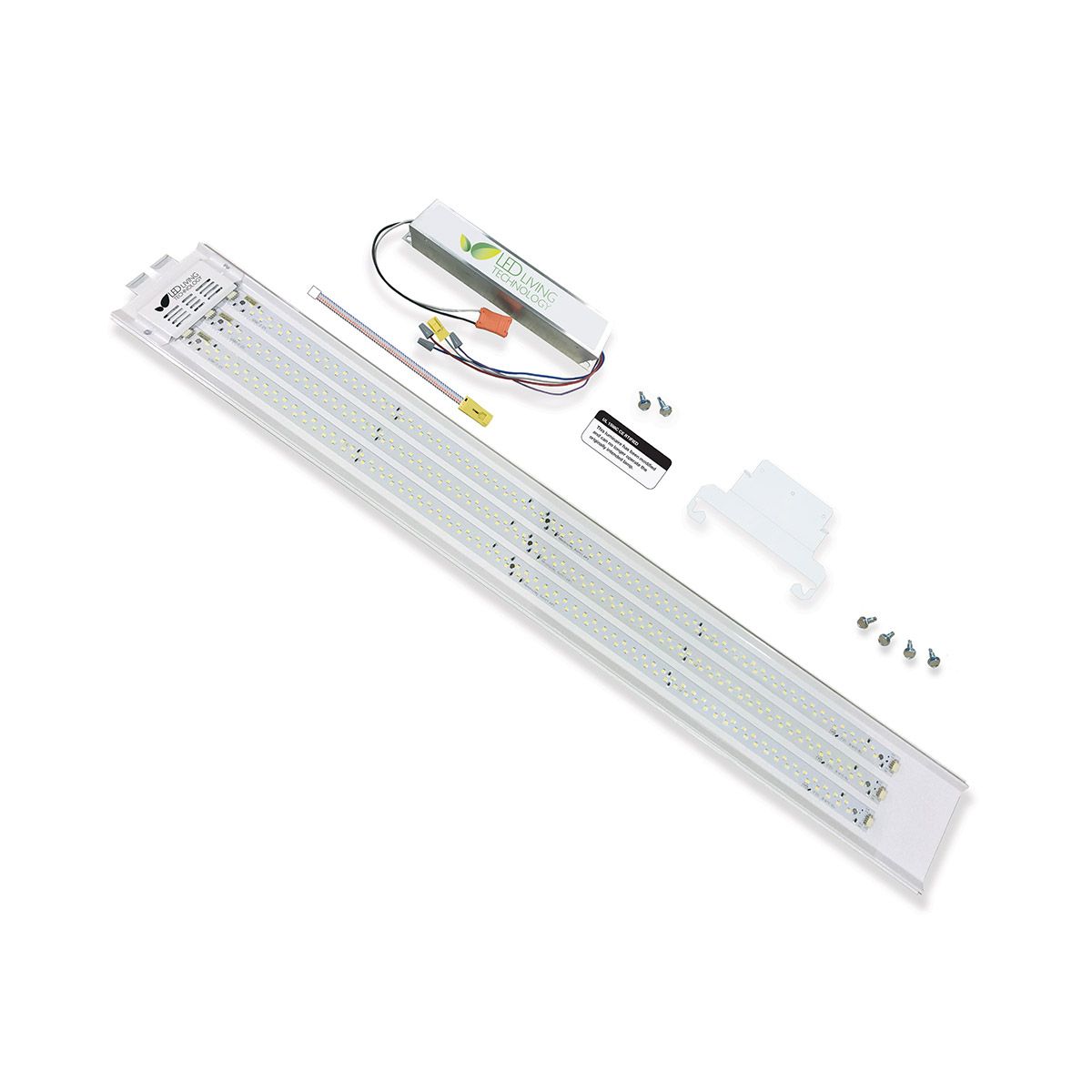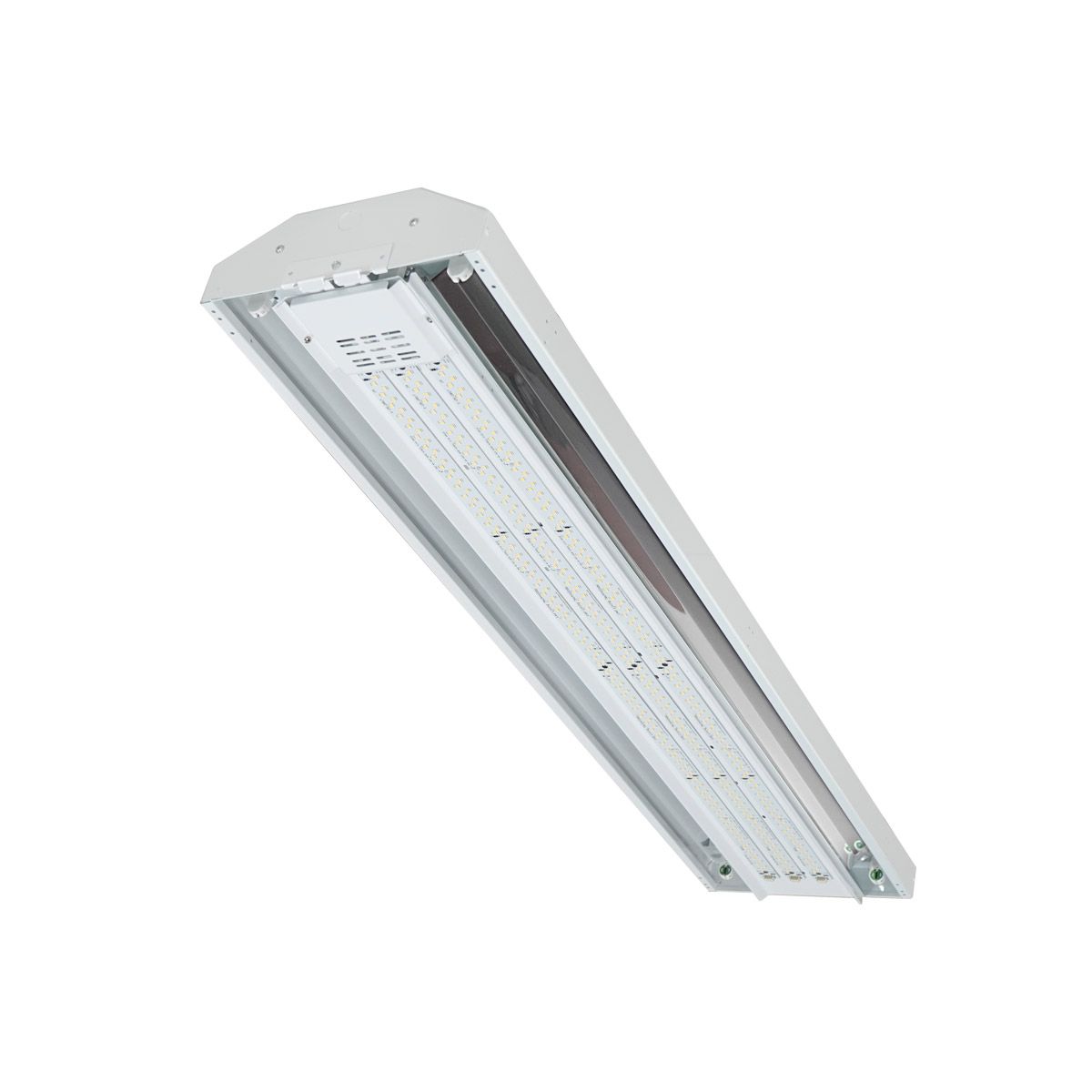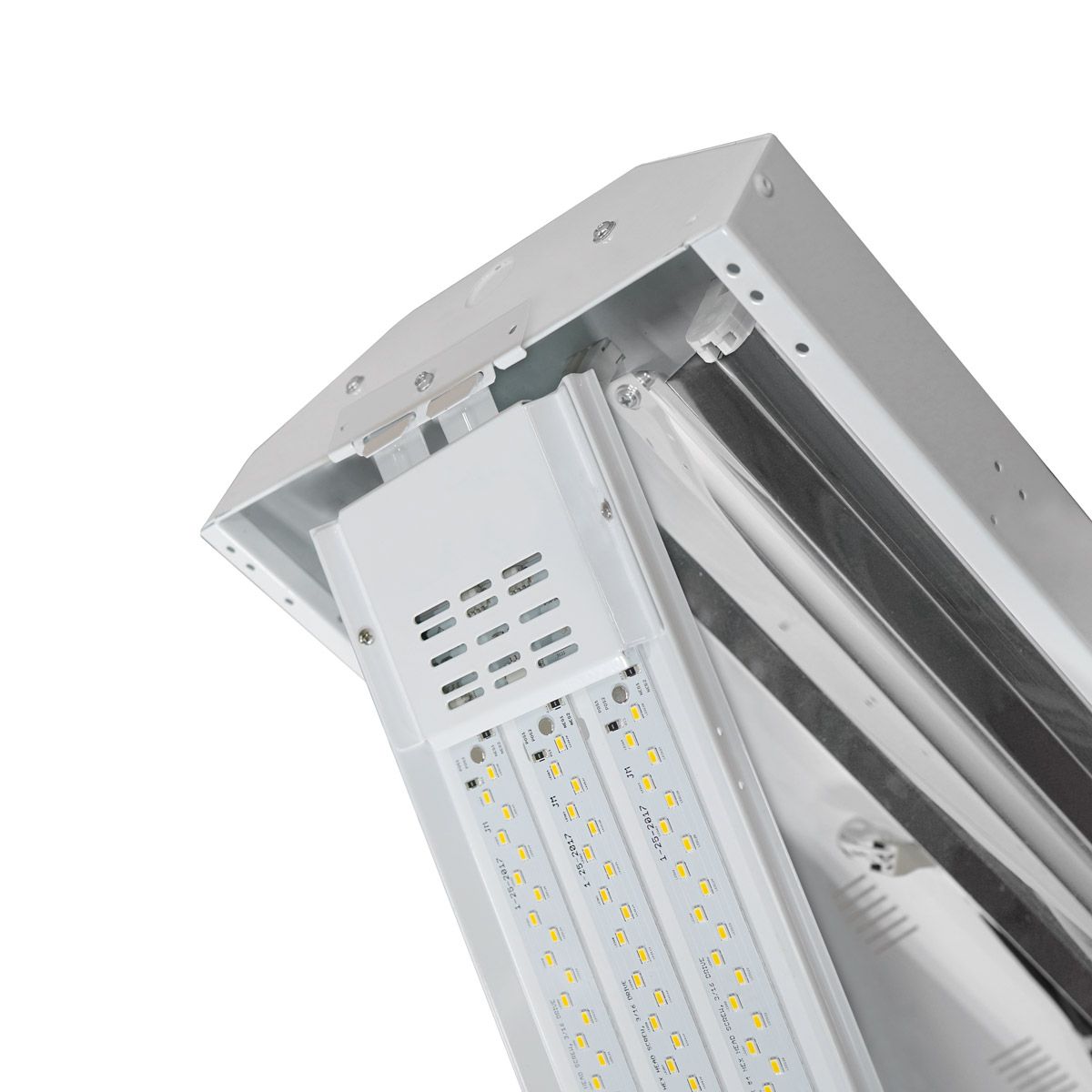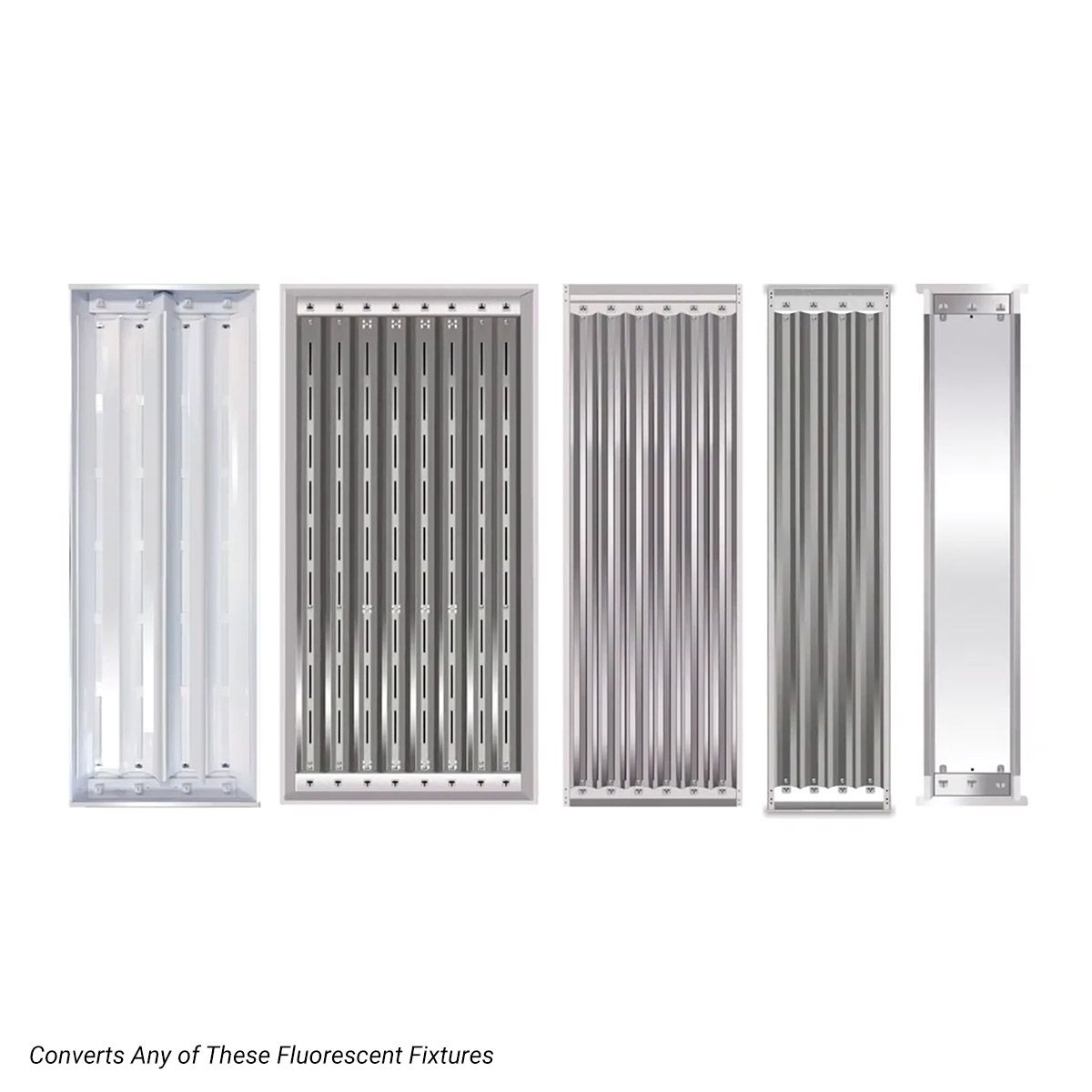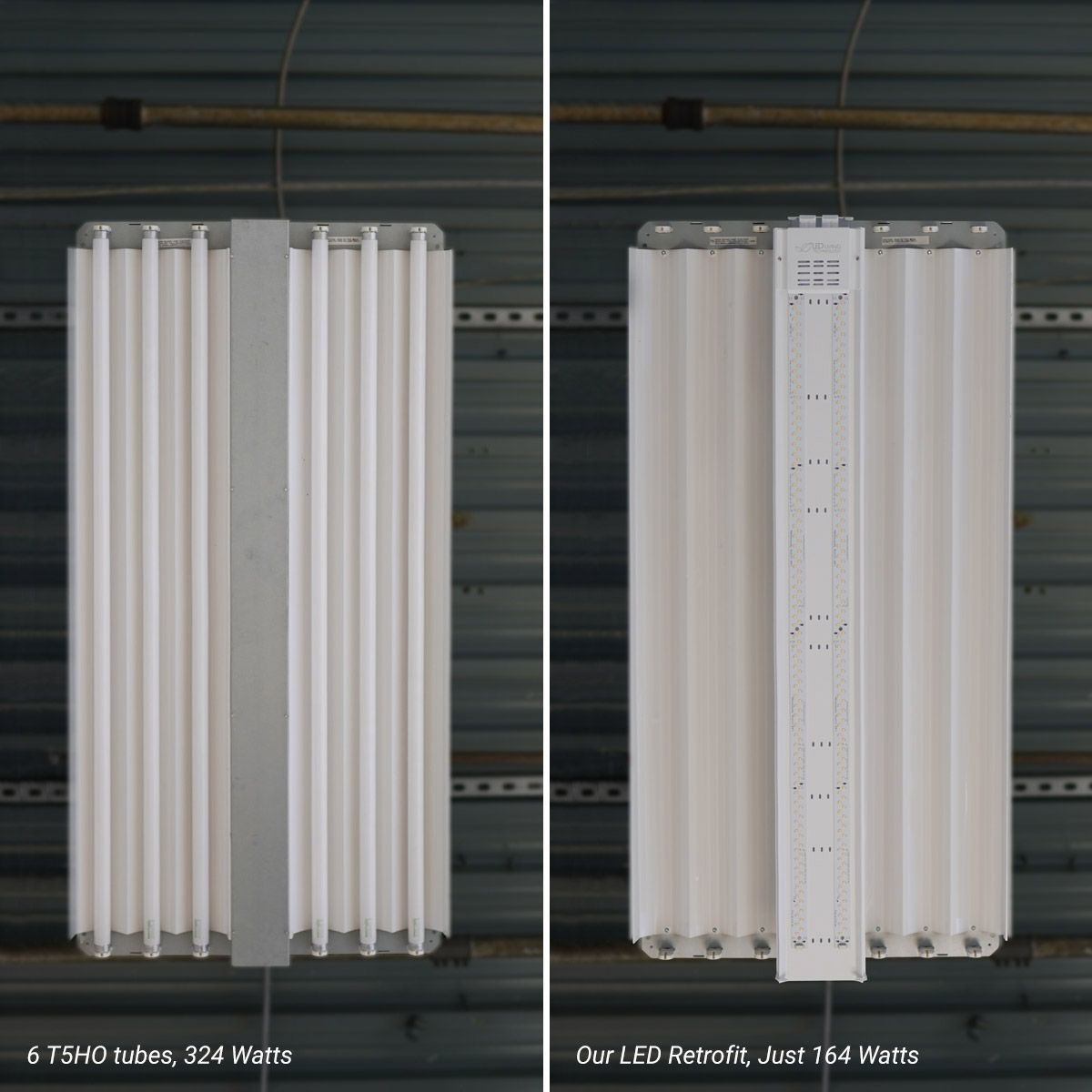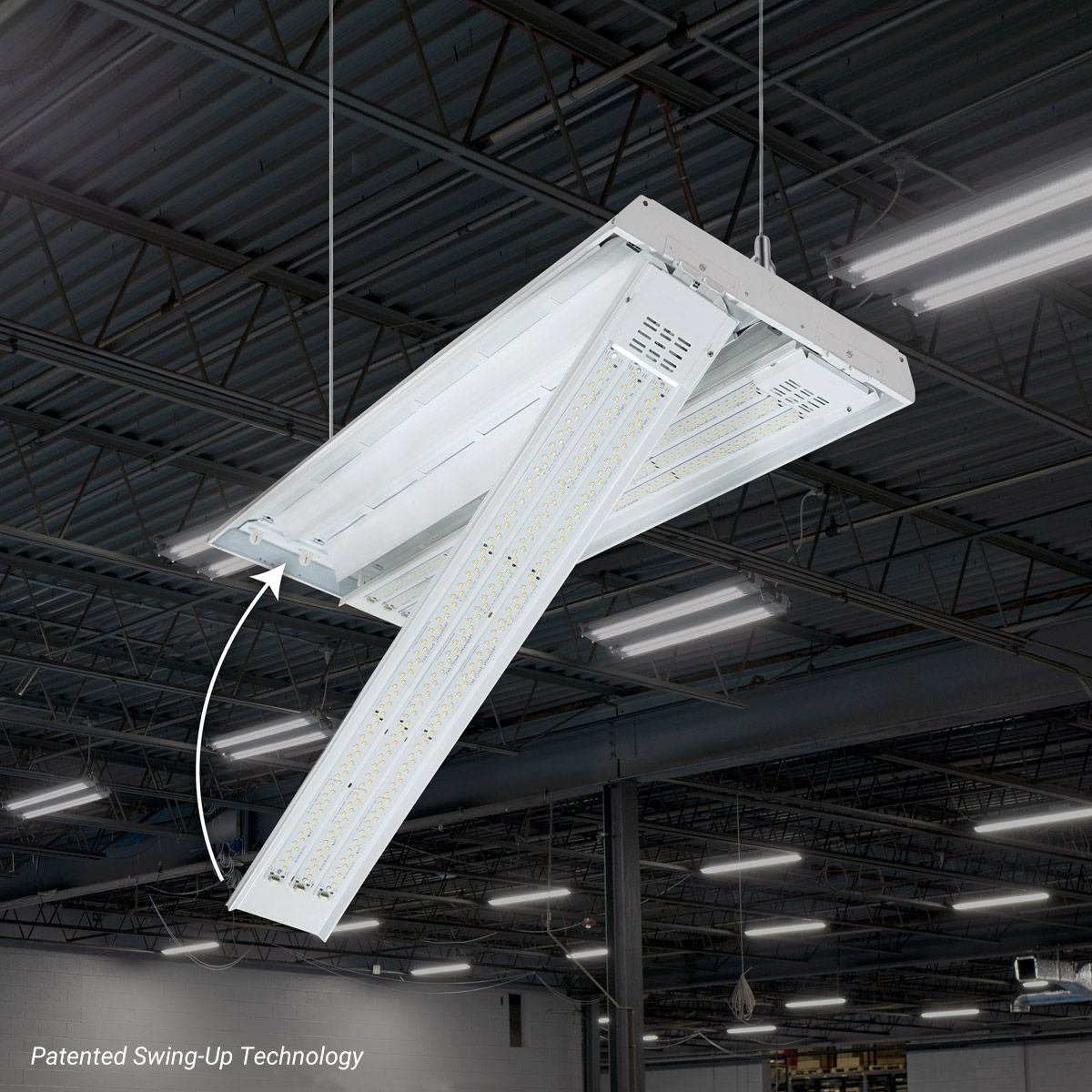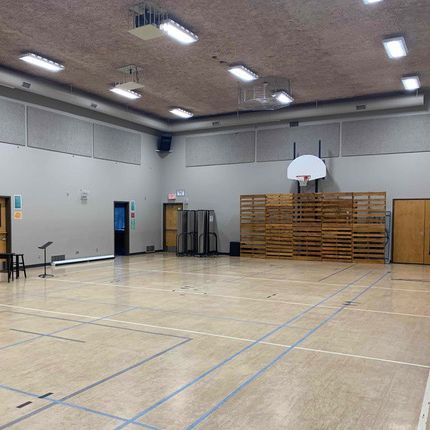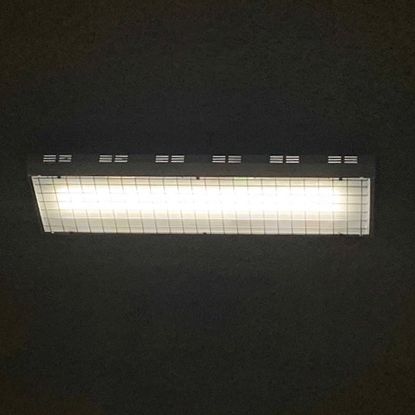 LED Retrofit for T5/T8/T12 Fluorescent High Bays - High Output
Color Temperature:
Natural White (4000K)
Annual energy savings (est)1: $228/light
Replaces up to 600W
Up to 24,700 Lumens / 150 lm/W

>82 CRI
UL Listed / Buy American Act Compliant
The 164W high output swing-up LED retrofit for linear fluorescent high bay fixtures cuts lighting conversion time in more than half! Instead of wiring tombstones for as many as 10 tubes per fixture, your electrician just wires a single module. And, by retrofitting rather than replacing, you get more mileage out of your existing fixtures and have less waste.
Because of its easy-to-handle, lightweight design, this LED retrofit is also an easier way to manage lighting conversions than replacing your fixtures. The swing-up feature makes installation a one-person job, and because it installs right on your existing fixture's housing, there's no fixture disposal to deal with.
Convert virtually any 6-lamp T5 fixture or 10-lamp T8 or T12 fixture from fluorescent to LED—including High Output (HO) fixtures. The swing-up panel's mounting hardware adjusts to fit the difference in length between standard and high output fluorescent fixtures.
You'll get up to 24,700 lumens of light with no light lost to the inside of the fixture, which means you're likely to experience more light than you're used to from your current fixture. With >82 CRI, you're also likely to experience more accurate rendering of colors under these lights than you're used to. Plus, you'll go from drawing as much as 350W of power to just 164W, which translates into significant monthly savings in your utilities budget.
System lifetime is >70,000 hours for the driver and >100,000 hours for the LEDs. 
The Buy American Compliant Swing Up LED Retrofit is manufactured in Hatboro, Pennsylvania by LED Living Technology, a Manncorp company.
If you need 480V, different color temperatures, or have other special requirements, contact us for a quote!
| | |
| --- | --- |
| Wattage(s) | 164W |
| Replaces Wattage(s) | up to 600W |
| Light Output | Up to 24,700 lumens |
| Luminous Efficacy (lm/W) | Up to 150 lm/W |
| Average Lamp Life | 70,000 hours |
| Color Temperature(s) | 4000K|5000K |
| CRI | 82-86 |
| Installation | Secure to 4' fixture with mounting bracket and self-tapping screws (included) |
| Working Environment | Indoors |
| Light Type | Retrofits and Conversion Kits |
| Input Voltage | 120-277 VAC (High voltage available—contact us) |
| Temperature Rating | Up to 40°C |
| Qty in Package | 1 LED panel, power supply, adjustable drop-down mounting bracket, DC extension cable, and self-tapping screws |
| Dimensions | 47.75" x 5.75" (Bracket adjusts to accommodate fixture length) |
| Certification | DLC 5.0|RoHS|UL |
| Warranty | 5 Years |