LED Flood Lights
FREE SHIPPING & Risk-Free Returns
LED Flood Lights
Cut energy and maintenance costs with new commercial-grade LED flood light fixtures. ELEDLights carries high-quality LED commercial flood lights for a multitude of applications. Whether you're looking for a large LED flood light for expansive areas, compact mini flood lights for targeted illumination, or high power LED flood lights for extreme brightness and high mast installations, we've got you covered. If you don't see a light that meets your needs, don't hesitate to get in touch. We have access to flood lights from nearly all major lighting manufacturers.
Our LED flood light experts are ready to assist. Reach out today:.
Call 215.355.7200 or Text 267.266.8330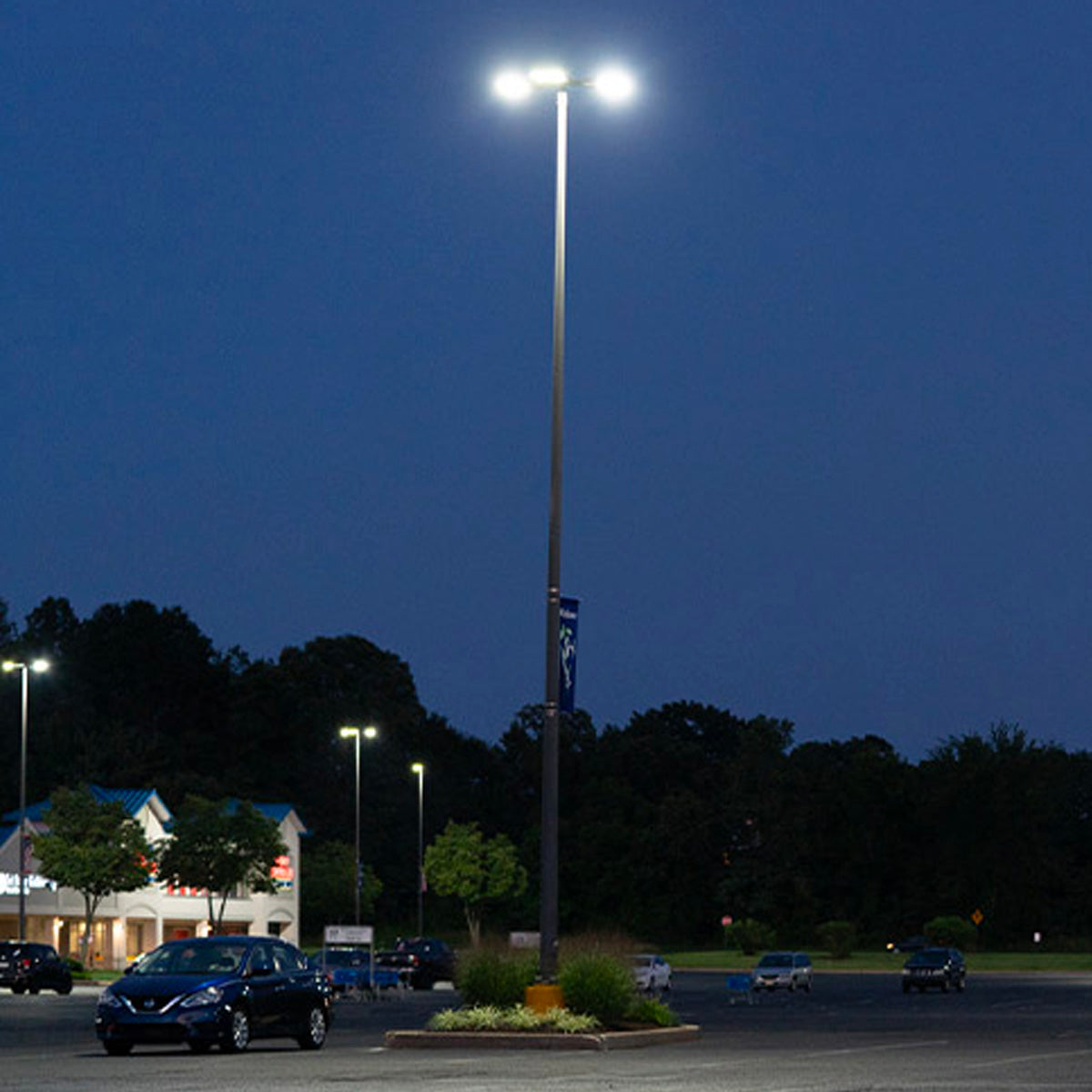 Need Poles?
If you need to pole mount your new flood lights, check out our steel and aluminum pole options—and request a quote for your project.
Energy-Efficient LED Flood Lights
ELEDLights offers a comprehensive selection of LED flood lights, including outdoor LED flood lights, commercial-flood lights, and industrial-grade options, including hazardous location and explosion proof. Our LED flood light fixtures are designed to cut energy consumption and reduce maintenance costs, making them an ideal choice for new flood lighting installs or as replacements for older, less efficient lighting technologies.
LED Flood Light Fixtures for Every Need
Outdoor Flood Lights for Every Application: Our LED flood lights come in a wide range of lumen outputs and beam angles, ensuring you can find the perfect, energy-efficient solution for your outdoor space. See below if you're wondering how many lumens you need for an outdoor flood light.
Brightest Outdoor LED Flood Light: Looking for very bright outdoor LED flood lights? Our selection includes high-power options designed to provide extreme brightness for expansive areas like sports fields, stadiums, and more.
Affordable Commercial and Industrial Flood Lights: In our LED flood light line-up for commercial and industrial properties, we have flood lights to fit the budget of every location. We also offer bulk discounts and valuable free services, like lighting layouts and utility rebate processing that can lower your upfront costs.
FAQs About LED Flood Lights
How many lumens do I need for an outdoor flood light?
The number of lumens you need for outdoor flood lights depends on the size and purpose of the area. As a general guideline: For highlighting details and signage, 5,000-10,000 lumens is often good, small to medium outdoor spaces will need 20,000-30,000 lumens, and large commercial and industrial settings may require 50,000 lumens or higher for adequate illumination. For a free layout of the best lighting for your outdoor space, reach out to our team!
What is the difference between a flood light and a high mast light?
High mast lights are designed to illuminate bigger outdoor areas, such as stadiums, highway interchanges, very large parking lots, airports, seaports, and large industrial areas. These are powerful lights mounted on very high (over 40 feet) poles. LED high mast lights save a significant amount of money in energy costs compared to traditional high mast lighting technology, such as high-pressure sodium, mercury vapor, and metal halide, due to the enormous amount of power these older lights had to draw to provide the required amount of light
Flood lights are less intense and used for a wider variety of applications, from architectural and landscape lighting to area lighting for small parking lots and playgrounds, to security lighting around building and fence perimeters.
Can I replace flood lights with LED?
Yes, you can replace traditional flood lights with LED flood lights. LED technology offers numerous advantages, including energy efficiency, longer lifespan, and reduced maintenance, making it a cost-effective and eco-friendly choice.
Are LED flood lights worth it?
Absolutely! LED flood lights are worth the investment due to their energy efficiency, extended lifespan, and reduced maintenance costs. They provide high-quality lighting and contribute to long-term savings on energy bills – often saving customers 50% or more on overhead.
High Quality Commercial LED Flood Lights for Safety, Security and Ambiance
Light up your property at night with durable, affordable LED flood light fixtures from ELEDLights. Whether you're looking for outdoor security, better lighting for your after-dusk events, or improved appearance of your property and billboard advertisements overnight, we have fixtures for you.
Bright and energy-efficient: Our LED flood lights are bright and energy-efficient, which can save you money on your energy bills.
Durable: Our LED flood lights are made with high-quality materials and are designed to last.
Versatile: Whatever your mounting, illumination, or light distribution pattern requirements, we can fill your needs. If you don't see the perfect solution for your application on our site, contact us with your needs.
Satisfaction guaranteed: We offer a Risk-Free Returns on our LED flood lights. If you're not satisfied with your new lights for any reason, you can return them within 30 days.
When it comes to commercial outdoor flood lighting for your business, tap into the greatest savings in energy and maintenance costs by choosing lights that are both robust and efficient. All of the LED flood lights ELEDLights offers for sale are designed with durability in mind and can be expected to provide bright, energy-efficient light in even demanding environments. What's more, each of our commercial flood lights operate at a fraction of the energy draw of traditional lighting options. This combination of performance and energy efficiency makes our LED flood lights an excellent choice for businesses looking to reduce their carbon footprint without sacrificing light quality or coverage.
Another advantage of LED flood light fixtures is that much less maintenance is required than with traditional lighting. This is particularly beneficial for lights installed in hard-to-access locations, such as building eaves and at the tops of light poles, which is commonly the case with exterior flood lighting.
Our high power flood lights, in particular, are designed to deliver exceptional brightness, perfect for situations where intense light is required, such as stadiums, highways, ports, industrial zones, and more. These high power LED flood lights are constructed to withstand harsh conditions while providing consistent, high-intensity illumination.
Browse through our collection of LED flood lights for sale, and you're sure to find the perfect lighting solution for your company's needs. Whether you're shopping for a single unit or looking to upgrade your entire property, we're here to help. So why wait? Invest in our LED commercial flood lights today and experience the difference in quality and energy efficiency for yourself.
If you have questions about LED flood lights or any of the LED flood lights for sale on our website, or if you'd like free assistance in creating a plan optimized both for your lighting needs and maximum energy savings, contact our lighting team by phone, text, or email today!